Our Take: 2014 Mitsubishi Mirage
The British use the phrase "cheap and cheerful" to describe something that's inexpensive but appealing. And while no one will mistake the Mitsubishi Mirage for anything but a basic city car, its cheeky paint job and eager nature have a cheap and cheerful charm.
Pricing and Equipment
Our test car—a top-of-the-line Mitsubishi Mirage ES finished in a blinding shade of Kiwi Green—listed for $15,990 with destination charges. It came fully loaded and had no optional equipment. A surprisingly upscale list of standard features included:
.
Automatic climate control
One-touch up/down on the driver's power window
Bluetooth phone connectivity
Cruise control
A leather-wrapped steering wheel with audio controls
A 10-year/100,000-mile powertrain warranty
The car's 1.2-liter three-cylinder engine produces just 74 horsepower, and is mated to a continuously variable transmission (CVT).
The base DE model with a five-speed manual transmission starts at $13,790, including destination.
Performance Pros
We were able to achieve the advertised EPA rating of 44 mpg highway. This is hybrid-like efficiency from a car that costs much less than a hybrid.
The Mirage feels peppy in city traffic, particularly with a heavy foot on the gas pedal, though aggressive driving does diminish the car's efficiency. If pushed, it can also keep up with freeway traffic—we travelled at speeds up to 80 mph.
Compact dimensions and light steering make the Mirage easy to maneuver in crowded city centers, and a snap to park.
Performance Cons
The engine has an unrefined, agricultural note, and transmits plenty of vibration when the car is at a stop.
Skinny tires and ultra-light steering don't inspire confident handling, especially at higher speeds.
The engine and transmission feel strangely ineffective against steep roads. In two separate circumstances, when starting from a stop, testers wondered if the Mirage would actually make it to the top. (It did in both cases.)
Interior Pros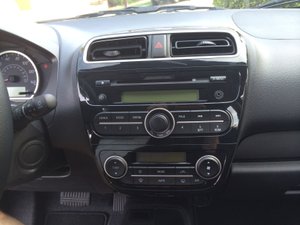 Zoom
The tall cabin welcomes four adults, and the rear seat feels more spacious than some midsize sedans.
The gauge cluster and center console look more upmarket than entry level.
It's hard not to be impressed by an entry-level subcompact with Bluetooth, automatic climate control and the one-touch driver's window.
Interior Cons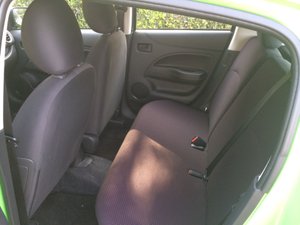 Zoom
There are some exceptions, but most materials feel cheap—in particular, the upholstery covering flat seats and the plastic cover on flimsy sun visors.
You'll hear the drone of the engine when you're moving and feel its vibration when you're stopped.
Most Pleasant Surprise
In around-town driving, the Mirage is livelier than you might expect. Though power delivery through the CVT can be unpredictable at times, we encountered fewer performance limitations than we anticipated.
Least Pleasant Surprise
There's no getting around this car's $16,000 price tag, which puts it in nearly direct competition with far more refined cars.
The Bottom Line
If you do lots of highway driving and prize economy above all else, the Mirage is a credible hybrid alternative that saves even more by being so much cheaper than any hybrid.
In any case, the Mirage is for the price-sensitive driver, and that's why we recommend the base DE model over the ES we tested. You'll give up a few extras, and a few miles per gallon with the five-speed manual transmission, but $13,790 (including destination) is a reasonable price that keeps the Mirage cheap and cheerful.
.

See the entire 2014 Mitsubishi lineup here >>
Buying With CarsDirect
We have partnered with trusted dealers in your area to give you a great price on the new Mitsubishi Mirage.
This is how it works:
We connect you to the Internet Department at a Trusted Dealership.
Use the CarsDirect Target Price as a tool in your negotiation.
The dealer will help you with financing or leasing, as well as trade-in options.
Insider Information
We have information you must know before you buy the Mirage.
We want to send it to you, along with other pricing insights.
Your Email
Submit
We will not spam you, and will never sell your email. You may unsubscribe at any time.
Thank you. You are now subscribed to our Pricing Insider updates.