Our Take: 2014 Subaru XV Crosstrek
A ruggedly stylish CUV with standard all-wheel drive, the XV Crosstrek is based on the compact Impreza. We think its target audience will be thrilled with its substantial feel and value pricing.
Pricing and Equipment
Finished in an attractive shade of Quartz Blue Pearl, our XV Crosstrek 2.0i test car drew plenty of praise for its upscale looks. In combination with black honeycomb wheels and privacy glass--both standard--the Crosstrek's high-quality paint job gave it the appearance of a more expensive car.
Standard equipment included air conditioning, Bluetooth connectivity for phones, heated front seats and a tire pressure monitoring system.
Our Crosstrek had a base price of $21,995 and only two options:
Continuously variable transmission ($1,000)
Moonroof ($1,000)
With a destination fee of $825, the car stickered for a very reasonable $24,820.
Performance Pros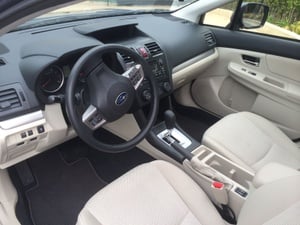 Zoom
The Crosstrek's engine offers peppy performance even without a turbocharger. Power was instantly available in most situations, though the four cylinder's "economy car" limits could be found in more spirited driving.
Braking was another good point—strong and unfussy.
We were surprised by the refinement of the Crosstrek's ride quality, something unusual in this type of vehicle. We found a nice combination of comfort and control.
Performance Cons
To the Crosstrek's credit, it received few universal complaints.
Any continuously variable transmission (CVT) takes some getting used to, and one of our testers didn't think this one worked as well as it could. Most of us, though, found it did a good job—and appreciated the standard paddle shifters.
We all found the steering too light, though, especially at higher speeds, when the lack of feel created the sensation of being disconnected from the road.
Interior Pros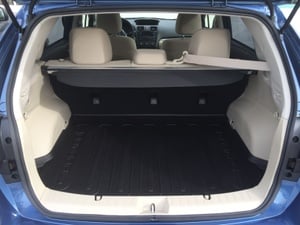 Zoom
Despite being somewhat at odds with the rugged exterior, the Crosstrek's interior was clean and uncluttered. Material choice was as good as we would expect at this price point. But buyers with children and/or pets will want to avoid the cream-colored upholstery in our test car.
There's plenty of utility in this utility vehicle—the cargo area is spacious, a bike fits quite easily with the 60/40 rear seats folded, and we even put the roof rack to good use.
Interior Cons
Interior design might be too conventional for buyers expecting the exterior's edgy design to continue inside.
One tester found the front seats relatively uncomfortable, but this was not a common complaint.
Most Pleasant Surprise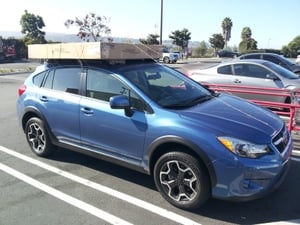 Zoom
We were deeply impressed by the Crosstrek's exceptionally tight turning radius. It made maneuvers in crowded parking lots that much easier—and quicker—to accomplish.
Least Pleasant Surprise
We weren't exactly light-footed with the accelerator pedal, but we still expected better fuel economy. A Crosstrek is rated for 25 mpg city and 33 mpg highway, but in our city driving, we saw numbers closer to 22 mpg.
The Bottom Line
The Crosstrek should be on more shopping lists. It convincingly combines the best of many worlds with a healthy dash of style and value pricing.