Model Preview
The Ford EcoSport will be a new subcompact crossover model offered in 2018. Previously sold only in foreign markets, it will be the smallest SUV in the automaker's lineup here in America.
In overall dimensions, the vehicle will be 9 inches shorter than the Ford Escape. Access to the cargo area will be possible via a swinging door, a big departure from previous models.
The version of the EcoSport hitting U.S. shores will be a bit different from the one sold abroad. Ford will update the front end and offer unique interior bits like the center console and instrument cluster, offering a different choice of powertrains as well.
Under the hood, the base engine will be Ford's award-winning 1.0-liter 3-cylinder turbo, while the upper-spec 2.0-liter turbo will come with all-wheel drive. A six-speed automatic transmission will be standard on all trims. Power figures have not yet been revealed.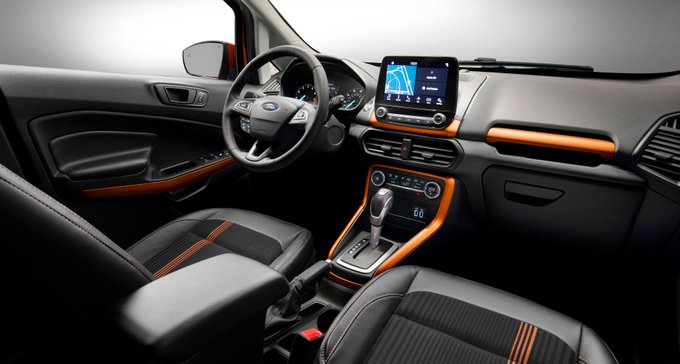 In terms of connectivity, shoppers can expect to see the latest features. The vehicle's infotainment system is based around the latest version of SYNC 3. Like other Ford models, the EcoSport will be compatible with both Android Auto and Apple CarPlay. A choice of 4", 6" or 8" touchscreen displays will be available based on trim level.
Four trim levels will be offered: S, SE, SES and Titanium. While most trims will likely be standard fare, the SES variant promises to offer a sporty alternative with a special suspension and steering setup, larger 8-inch screen, all-wheel drive and copper interior accents (pictured above).
Stay tuned for updates closer to launch.
Pricing & Release Date
Official pricing has not yet been announced. Based on how competitors are positioned, we think it's reasonable to expect a base price of $20,000 to $21,000 including destination.
For reference, the larger Escape currently starts at $24,495 and ranges up to $31,745 before optional equipment.
The 2018 Ford EcoSport is due to go on sale in early 2018.
Learn about the current Ford Escape »
Pictured: Ford EcoSport