Latest Updates
Official pricing added July 25, 2017.
Model Preview
The Ford Mustang will receive substantial updates for the 2018 model year. Key changes will be a new 10-speed transmission, the elimination of the base V6, a more powerful V8 and a revised front and rear end design.
The car's exterior gets a number of subtle additions like a revised hood that has been lowered approximately 20 mm and will now feature built-in vents. New LED lighting options will offer a premium look compared to the current car. Many customization choices will be available such as 12 wheel designs and a new exterior color called Orange Fury.
Inside the cabin, the Mustang will get a new optional all-digital dash featuring a 12-inch touchscreen display. Drivers will be able to tailor the display to suit specific activities to differentiate between normal driving and days at the track. GT owners will enjoy a new exhaust system with the ability to be as loud— or quiet— as the situation requires.
Under the hood, shoppers will no longer get the current V6 rated at 300 hp with 280 lb-ft of torque. Instead, the automaker's 2.3-liter EcoBoost turbo will become the new base model. Updated power figures haven't been announced, but the outgoing design is rated at 310 hp and 320 lb-ft.
As before, a 5.0-liter V8 sits at the top of the range. However, the throaty engine has been revised to offer more power, thanks in part to a new injection system that uses a combination of high-pressure direct injection and low-pressure port injection. Power is expected to exceed the current 435 hp and 400 lb-ft.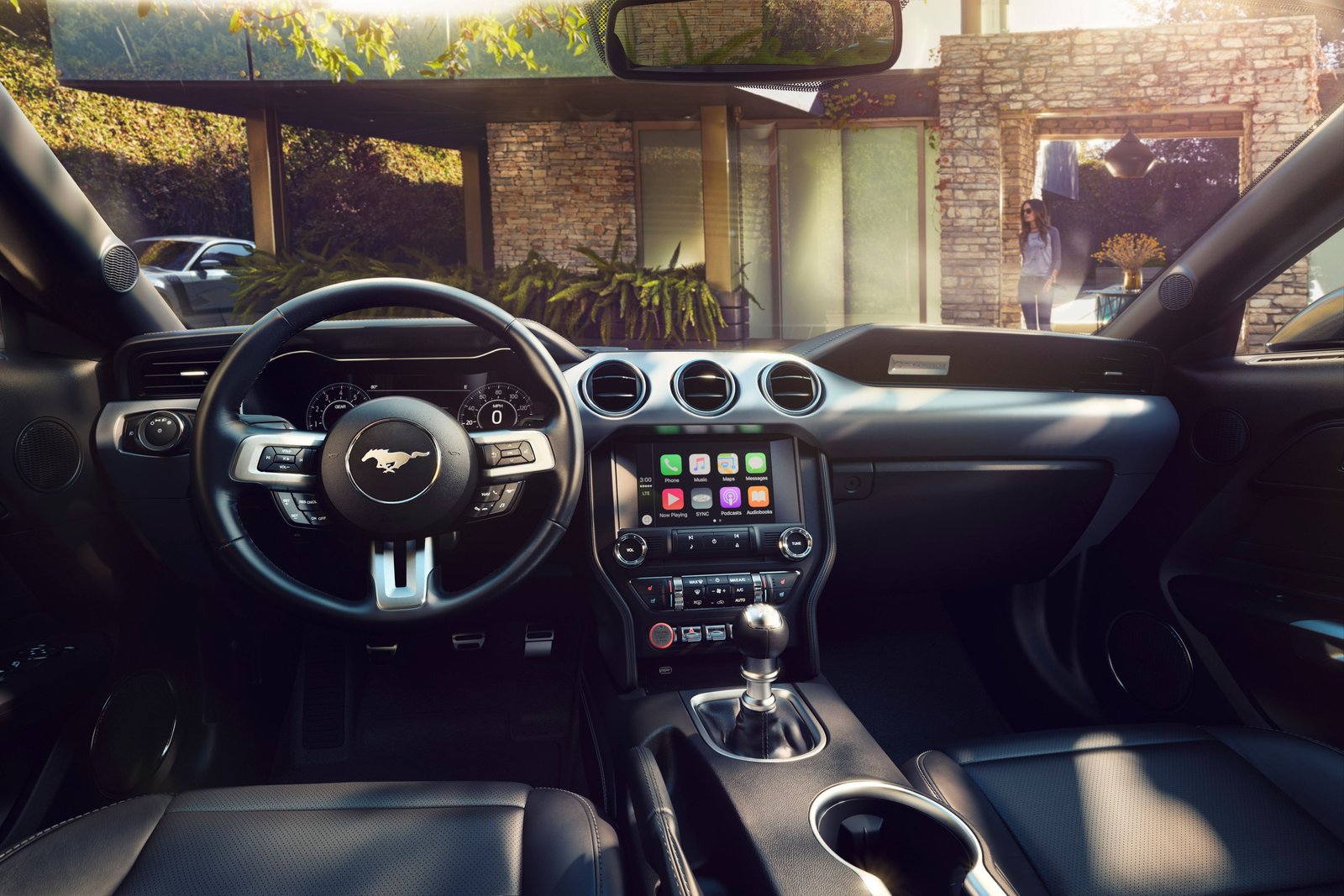 Both the EcoBoost and V8 will offer an available 10-speed automatic transmission (as opposed to the 6-speed in the outgoing car). The system is intended to offer a better mix of performance and efficiency. As before, a manual transmission will be offered on all models. In the V8, the manual has been updated to involve a new twin-disc clutch and dual-mass flywheel for enhanced torque.
Shoppers looking for more performance may appreciate the addition of a new package offering magnetic suspension (MagneRide) for a more adaptable ride experience. The option will be available on both EcoBoost and V8 Mustangs.
In terms of safety, Ford will offer new driver assistance tech never previously offered on the Mustang. The car will now get an available pre-collision system with pedestrian detection, lane departure warning and more. At the moment, it's unclear whether or not these features will help the car earn a higher IIHS safety rating.
Although a limited-production Mach 1 variant has been rumored to be in store for 2018, this has not yet been confirmed by Ford. A revamped Shelby GT500 sitting above the current Shelby GT350 has been rumored to be under development, with some of the wildest speculation suggesting it may get the same twin-turbo engine as the Ford GT. However, shoppers should take these rumors with a big grain of salt for now. A hybrid variant called the Mustang Hybrid is officially in store for 2020.
Expect a full review closer to launch.
Pricing & Release Date
The 2018 Ford Mustang will go on sale later this year. Production is expected to begin in early October, which suggests a release date sometime in late fall.
Official pricing will start at $26,485 including destination for the 2018 EcoBoost coupe. That's $610 less than the previous year. The convertible has been priced from $31,985.
The Mustang GT will start at $35,995 for the coupe and $45,495 for the convertible. That represents a $1,900 increase over the previous year.
Deals on the outgoing Mustang have been stable with fairly modest cash incentives and finance offers. We typically do not see as much discounting on the Mustang as we do on competitors like the Dodge Charger and Chevrolet Camaro.
Check back for updates as they become available.
Pictured: 2018 Mustang