Model Preview
The Hyundai Accent is expected to get a complete redesign for the 2018 model year. Based on the reveal of the Canadian spec model, shoppers have a lot to look forward to thanks to a larger layout and design much akin to the successful Hyundai Elantra.
The new-look Accent will gain widened headlights, a hexagonal grille, a flat and lower hood, a new greenhouse, and a more coupe-like D-pillar. In terms of sizing, the Accent will be larger than its predecessor by 0.59 inches in length and 1.1 inches in width.
As for the hatchback model, it will grow by a whopping 2.75 inches in length. Hyundai will also stretch the Accent's wheelbase by 1.1 inches. Aerodynamics are also improved by way of a new front lip spoiler and a 0.39-inch lower ride height. In addition to its new size and looks, there will also be additional premium features available, including 17-inch wheels, LED daytime running lights, and LED turn signal indicators.
The interior will also be completely redone. The 2018 Accent will gain a more driver-oriented setup, higher-quality materials, and additional technology. The latter will include new 5- or 7-inch touchscreens, Android Auto, and Apple CarPlay. The interior is also larger in both the sedan and hatchback model, as they are up 1.27 cubic feet and 1.34 cubes in passenger volume, respectively. Additionally, the sedan's trunk is up 0.6 cubic feet.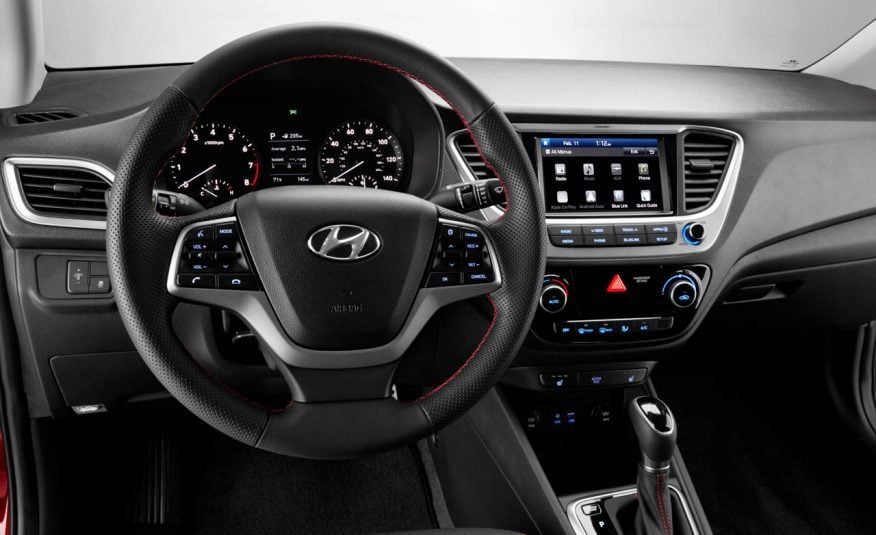 Powering the new Accent will be a revised 1.6-liter four-cylinder engine that will produce 132 horsepower and 119 pound-feet of torque. Pairing with this engine will be a standard six-speed manual transmission or an optional six-speed auto transmission – the auto transmission will have a Drive Mode Select. Hyundai claims this engine will be 7 percent more efficient than the previous 1.6-liter engine, but it hasn't revealed any official details yet.
The 2017 Accent has serious safety issues, as the IIHS rates it "Poor" in the small-overlap front test and "Acceptable" in the side crash test. For 2018, Hyundai will improve front crumple zones and airbags to enhance safety. Finally, Hyundai will add autonomous emergency braking as an option for the first time on this model.
Expect a full review closer to launch.
Pricing & Release Date
The 2018 Hyundai Accent is expected to begin production in September. We currently anticipate an on-sale date sometime in November.
Pricing has not yet been announced, but we don't anticipate a huge price increase from the current range of $16,580 to $18,330 (destination fees included).
This should keep the Accent in close competition with the Ford Fiesta ($15,630 to $22,015), the Kia Rio ($16,290 to $21,800), and the Nissan Versa ($14,545 to $18,145).
Stay tuned for updates.
Learn about the current Accent on sale now »
Pictured: 2018 Accent