Model Preview
The Hyundai Kona will be a new subcompact crossover smaller than the current Tucson. It will compete in an increasingly popular segment of subcompact SUVs like the Honda HR-V, Chevrolet Trax and Toyota C-HR.
In terms of design, the Kona looks nothing like it stablemates, the Tucson and Santa Fe Sport. The model emphasizes unique styling with flared fenders and body cladding. The grille, while reminiscent of the refreshed 2018 Sonata, is flanked by a set of daringly narrow LED daytime running lights that may draw comparisons with the Jeep Cherokee.
The Kona promises to offer best-in-class interior space and a platform that emphasizes driving dynamics. We don't have official numbers yet for cabin space, but Hyundai will have to offer an impressive alternative to competitors like the Honda HR-V which offer a versatile layout with fold-up rear seats.
The name Kona is inspired by the town of the same name on the Big Island of Hawaii. It's meant to evoke a fun-seeking spirit, much in the same way as older competitors like the Nissan Juke. The vehicle will utilize high strength steel for a light yet rigid structure that aids handling.
Under the hood, the Kona will be offered with a choice of either a 2.0-liter engine paired with a 6-speed automatic transmission, or a 1.6-liter turbo with a 7-speed dual-clutch. Power figures haven't been announced yet, but it's possible that output will be on par with the Tucson, which produces 164 hp with the 2.0-liter and 175 hp with the 1.6-liter turbo.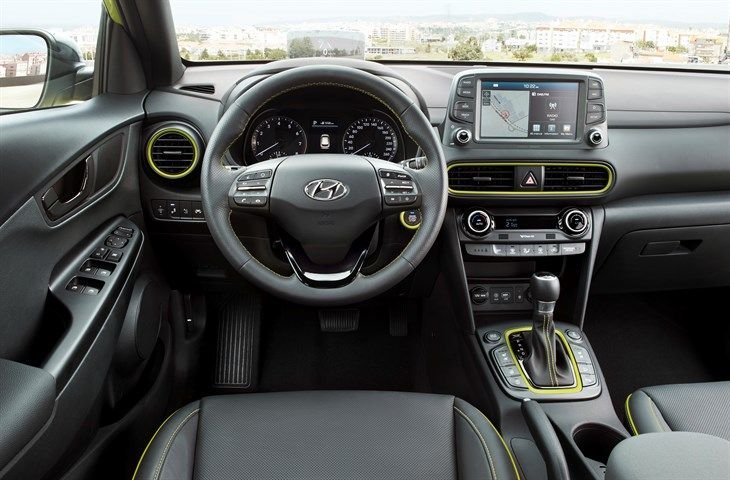 Technology will likely be a strong selling point for the Kona. Like most Hyundais, the vehicle will offer connectivity with both Android Auto and Apple CarPlay. One interesting feature will be a head-up display that projects an image of key system information such as speed and navigation instructions onto a glass panel behind the instrument cluster.
In terms of safety, the Kona will offer the latest driver assistance tech like forward collision warning automatic emergency braking, rear cross-traffic alert and more. At this time, there are no indications that the vehicle will get these features as standard equipment. Hyundai typically offers these on the most expensive trims only, unlike its competitor Toyota.
Expect a full review closer to launch.
Pricing & Release Date
The Hyundai Kona is expected to hit U.S. shores in early 2018.
Official pricing has not yet been announced. For reference, the larger Tucson starts at $23,595 with destination and ranges as high as $32,070. The Honda HR-V, which will be one of the Kona's direct competitors, starts at $20,405 in base form with a manual transmission, or $21,205 with an automatic.
We'll update this page with the latest info as it becomes available.
Learn about the current Hyundai lineup »
Pictured: All-New Kona