Model Preview
Hyundai continues to show that it's one of the more progressive automakers and has no fear of attacking new markets. This time it's entering the unoccupied all-electric subcompact crossover segment. It's blazing this trail with an electrified version of the existing Hyundai Kona.
With the Kona's wild looks, there have been rumors that something else was coming. For the most part, Hyundai has remained fairly loyal to its corporate design language, but the Kona's thin headlights, short overhangs, and two-tone paint are a big departure. The Kona Electric takes this a step further with a closed-off grille for enhanced aerodynamics.
While there aren't many details about the Kona Electric's interior, we do have some pictures to draw from. The general size and design of the cabin will remain the same as the gas model, but the details will likely be vastly different.
The center console will lack a traditional gear shifter and instead boast a new electronic range selector. Buyers will also notice the larger touchscreen and the updated gauges. The available features inside the cabin will include support for Android Auto, Apple CarPlay, and wireless charging.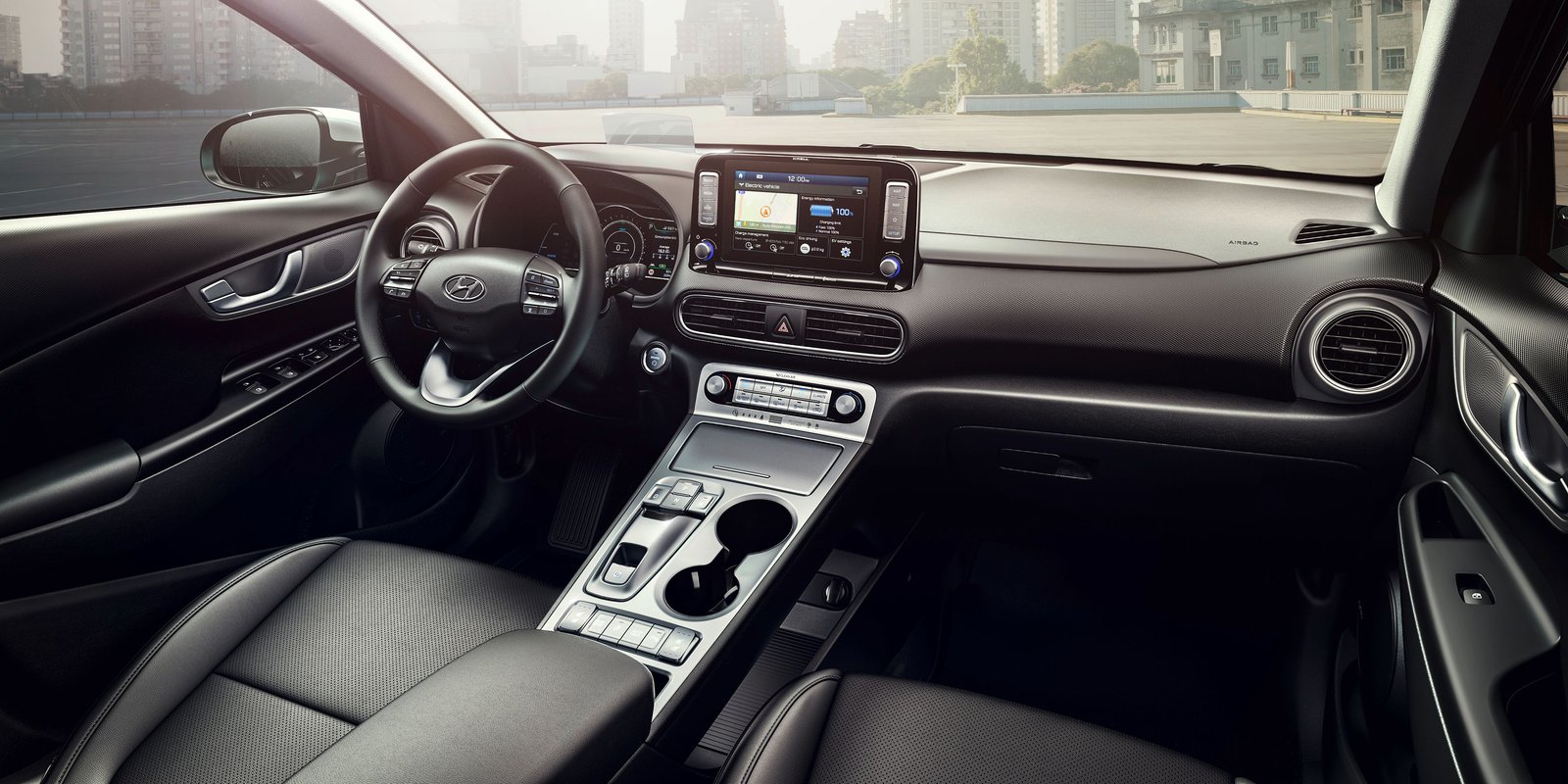 While the U.S. specs aren't available yet, we do know that the European model will have two powertrain options: short-range and long-range.
The short-range model's electric motor will inject 133 horsepower and 291 pound-feet of torque, using a 39.2-kWh battery pack that will deliver up to 186 miles in range. The long-range model will bump the battery to 64 kWh, which will push its power to 201 hp and 291 lb-ft and range of a whopping 292 miles.
The Kona has not been put through the IIHS' series of bang-up testing, but we do know the Kona Electric will have all the high-tech safety goodies available. These will include automatic emergency braking, pedestrian detection, blind-spot warning, rear cross-traffic alert, driver alertness warning, intelligent speed limit warning and lane-keep assist.
Pricing & Release Date
There is no mention of when the Kona will hit showrooms in the U.S., but we expect it to arrive in late 2018. This leaves it uncertain whether this will be a 2018 or 2019 model.
Pricing is still a long ways off, but we expect its base price to check in around the top of the gasoline-fueled Kona's range, which starts from $20,450 and tops out at $29,650 (destination fees included).
The Kona Electric won't have any direct competitors, but buyers may also consider the Chevy Bolt EV, the Ford Focus Electric, and the Tesla Model 3.
Photos
Pictured: All-New Kona Electric