Model Preview
When Kia debuted its thrifty Niro hybrid crossover, it also promised us a plug-in version for the greener public. We now have official information on the 2018 Niro Plug-In, which as a plug-in hybrid crossover, is one of the first of its kind.
The 2018 Kia Niro Plug-In Hybrid carries on with the same looks as the standard Niro, except for the plug on the front driver's side fender, a lightly revised grille, hybrid blue accents, and optional LED headlights. Though some may expect big aerodynamic changes with the addition of a full-electric range, the Niro already had a fairly slick design, and its lightweight advanced high-strength steel core, which makes up 50 percent of the platform, helps keep weight down.
Inside, the general setup of the Niro Plug-In Hybrid will be virtually identical to the standard Niro, but there will be a few key changes. One key change is the UVO eco system, which allows the owner to set up charging schedules. Preset cabin temperatures, activate window defrosters, heat the steering wheel, unlock the doors, and remotely monitor of the Niro's charge via their smartphone. Buyers will also notice the air-conditioning system has a driver-only mode, which directs all cooling to the driver only for reduced energy consumption. Other plug-in exclusive interior buts include the "ECO/Plug-In" badges, and available 7-inch digital meter cluster.
The Niro Plug-In Hybrid uses the same 1.6-liter gasoline engine as the standard model, but it swaps in a 60-horsepower electric motor and an 8.9-kWh lithium-polymer battery pack. The combined output is unimpressive at 139 hp and 195 pound-feet of torque, but its 26 miles of electric-only driving and 105 miles-per-gallon-equivalent rating are. When in hybrid mode, the Niro Plug-In Hybrid's fuel-economy ratings are similar to the standard Niro at 48 mpg city, 44 highway, and 46 combined.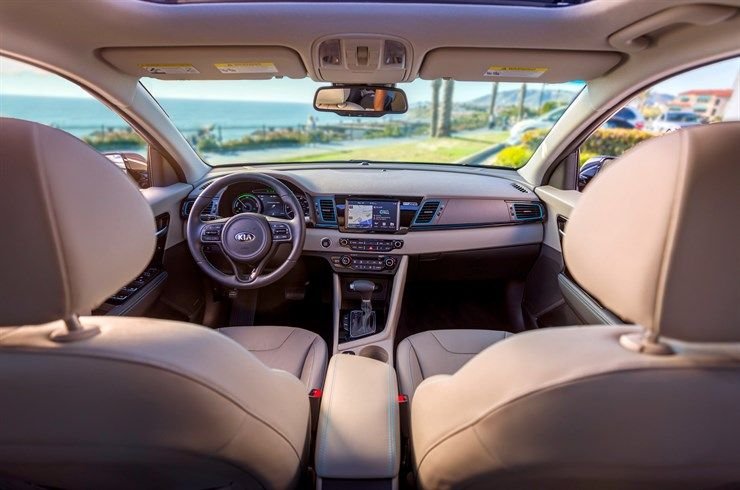 Charging takes 2.5 hours on a 240-volt charger and under nine hours via a 120-volt charger.
The Kia Niro has yet to go through IIHS safety testing, nor has it gone through NHTSA testing. What we do know is that the Niro Plug-In Hybrid will come standard with tons of safety features, like blind-spot detection, rear cross-traffic alert, lane-change assist, front and rear parking sensors, adaptive cruise control, automatic emergency braking, forward collision warning, and lane-keep assist.
Pricing & Release Date
The 2018 Kia Niro Plug-In Hybrid is on sale now and arriving at dealers nationwide.
The vehicle will be available in three trims: LX, EX, and EX Premium. Pricing will start from $28,840 (including destination fees) before federal and local tax credits.
Key competition will include the Toyota RAV4 Hybrid and the Toyota Prius Prime.
Build & Price Your 2018 Niro Plug-In Hybrid »
Pictured: 2018 Kia Niro Plug-In Hybrid