Redesign Info
The smallest of the U.S.-spec Kias, the Rio, is due for an update, and the Korean automaker announced plans to show off the new-generation hatchback at the 2016 Paris Auto Show. In addition to this announcement, Kia unveiled its first official images of the updated car, which is expected to arrive for the 2018 model year.
Stylistically, the Rio will remain very familiar, but there will be significant changes in this department. The changes will start with a longer wheelbase, front overhang and hood, and continue with an updated grille, more upright C-pillars, new headlights, an updated front apron, and new taillights. With a longer wheelbase, we also anticipate more cargo and passenger room inside.
In addition to the stylistic changes, we anticipate new safety features, the latest and greatest in connectivity, like Android Auto and Apple CarPlay, and more.
Kia has yet to make the powertrain details official for the new-generation Rio. For reference, the current model uses a 1.6-liter four-cylinder engine that produces 138 horsepower and 123 pound-feet of torque. We wouldn't be shocked to see a smaller-displacement engine with a turbo to help with output and efficiency.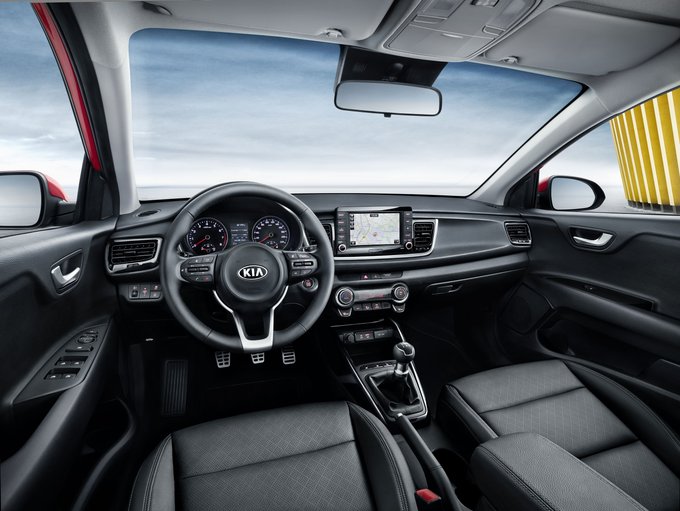 Safety is a sore spot for the current Rio, as it received a "marginal" rating in the small-overlap test and only an "acceptable" rating in the side crash test. Kia is likely looking to improve greatly in these departments and possibly earn itself a Top Safety Pick designation with more advanced safety features in the new generation.
Expect updated information closer to launch.
Pricing & Release Date
It is way too early for official pricing details on the new-generation Rio, but we expect it to remain near its current pricing range of $15,015 to $21,755 (delivery fees included).
In this range, the new Rio will have to deal with the Ford Fiesta (starting from $14,965), the Chevrolet Sonic (based from $16,020), and the Honda Fit ($16,825).
Production of the new-generation Rio for the European market will kick off near the end of 2016, but there is no information on when U.S.-spec models will be ready.
See pricing and deals on the current Kia Rio »
Pictured: 2018 Rio