Redesign Info
The Kia Rio finally gets a much overdue redesign for the 2018 model year. The updated car includes a more mature exterior, a more spacious cabin, new safety features, and an updated powertrain.
The 2018 Rio's looks will be completely new on both the sedan and hatchback. Both will grow in length by 0.6 inches, as the sedan will be 172.6 inches long and the hatchback will be 160 inches long. Both models also sit on a 0.4-inch-longer wheelbase, which measures 101.6 inches long.
On top of being longer, the Rio will take on a more mature look, with its revised "tiger nose" grille, more upright pillars, more swept-back headlights, thinner taillights, and re-positioned fog lights that visually widen the car. Both models will also be physically lower and wider than the 2017 model, giving the Rio a sportier stance.
The Rio's interior will also be all-new. It will gain a more upright and visually wider appearance. The latter will come from the horizontal orientation of the dash. The center console will also gain a bi-level tray for holding all your digital gadgets, like a cellphone or tablet.
Thanks to the larger footprint and wheelbase, the Rio's interior will be roomier for rear-seat riders, as both styles have an extra 2.4 inches of rear leg room. In terms of cargo room, the sedan will remain the same at 13.7 cubic feet, but the hatchback will see its capacity with the seats up grow by 2.4 cubic feet (17.4 cubic feet) and its max capacity fall by a shocking 17 cubic feet to 32.8 cubes.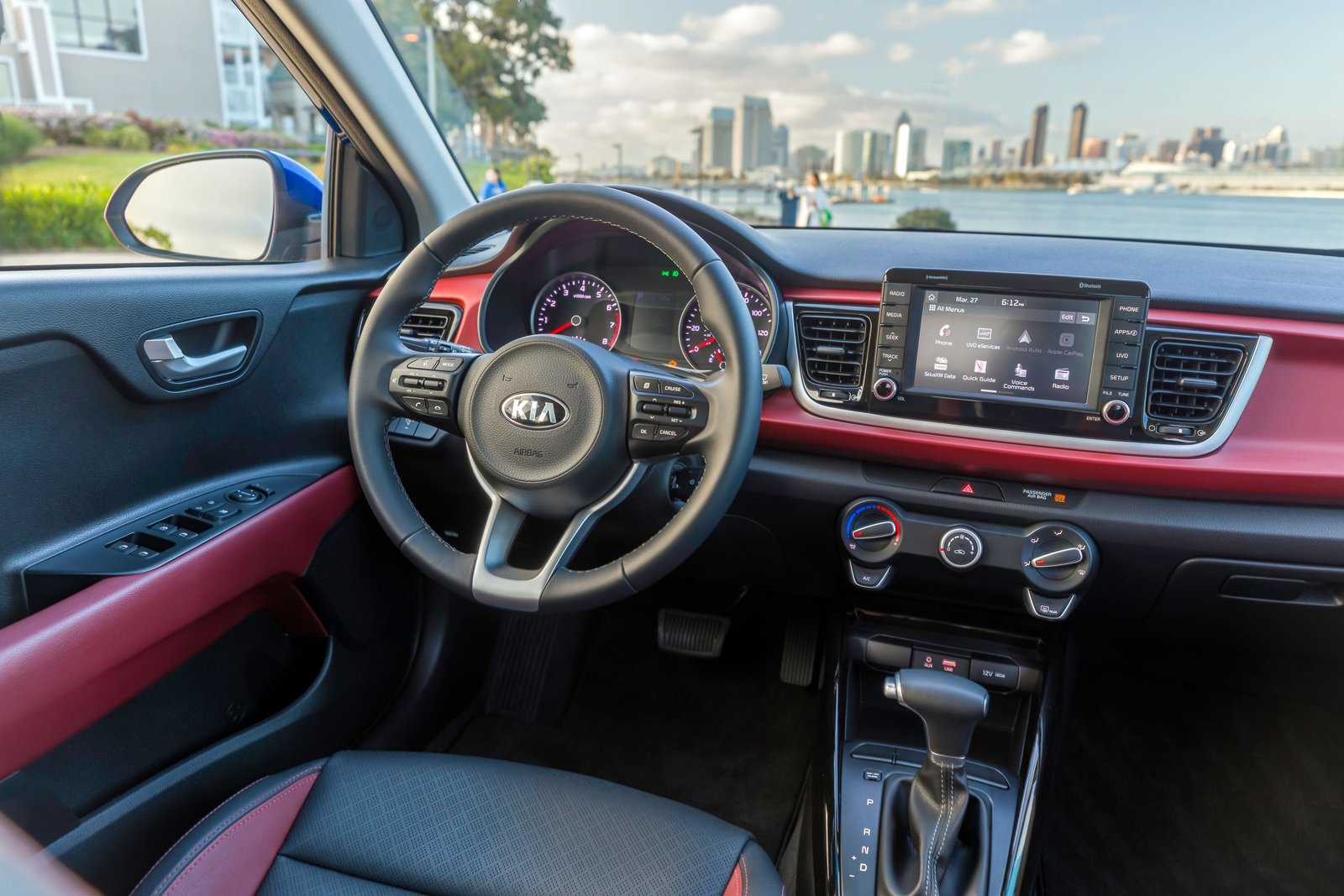 The 2018 Rio will come with some new tech too. These updated goodies will include a new available 7-inch touchscreen, Apple CarPlay, and Android Auto.
Powering the Rio will be a reworked 1.6-liter four-cylinder engine that will deliver 130 horsepower and 119 pound-feet of torque. This is a drop in power from the current model by 8 hp and 4 lb-ft.
The new Rio will continue with a standard six-speed manual and an optional six-speed automatic transmission. While the decreased power is not a huge selling point, we could increased fuel economy from the new Rio -- the current Rio gets up to 27 miles per gallon city, 36 highway, and 31 combined.
Safety is a sore spot for the current Kia Rio, as it received just a "marginal" rating in the small overlap test, an "acceptable" rating in the side test, and it has no crash-prevention technology. In 2018, Kia is looking to turn the Rio into at least a Top Safety Pick with its available forward automatic emergency braking and high-strength steel construction.
Expect a full review closer to launch.
Pricing and Release Date
The 2018 Kia Rio will go on sale later this year.
We expect pricing to increase only a tad, as the updates to the 2018 Rio are nothing too immense. For reference, the current model's MSRP range is $16,290-$21,800 (destination fees included).
In terms of deals, Kia is not big on offering incentives on its non-crossover models, including the Rio, and we don't expect this to change for the 2018 model.
The key rivals for the Rio include the Chevrolet Sonic, Ford Fiesta, and Toyota Yaris.
See prices & deals on the current Rio »
Pictured: 2018 Rio