Model Preview
For 2017, the SLK-Class became the SLC-Class. With this name change also came a new engine, some styling tweaks, and a handful of new standard features. We expect the 2018 Mercedes-Benz SLC-Class to remain unchanged.
Being a carryover model, we expect no visual changes to the 2018 SLC-Class, as we expect it to continue with the same updated styling we saw from the 2017 model. This carryover styling will continue to the interior, which looks and feels the part of a true luxury car.
In addition to no styling changes, we expect the 2018 SLC-Class' standard features to remain the same. If our expectations are correct, look for it to come standard with 17-inch wheels, a fixed-glass roof, xenon headlights, LED daytime running light and taillights, power-folding side-view mirrors, leatherette upholstery, a rearview camera, a 7-inch display screen, and an eight-speaker audio system.
We believe the SLC-Class will continue with its two versions: SLC300 and AMG SLC 43. We expect the SLC300 to continue with a 2.0-liter turbocharged four-cylinder engine that will produce 241 horsepower and 271 pound-feet of torque.
The range-topping AMG SLC 43 will continue with a 3.0-liter twin-turbo V6 that'll produce 362 hp and 384 lb-ft of torque. Both versions will continue with nine-speed automatic transmissions, but AMG will tune the SLC 43's transmission for better performance.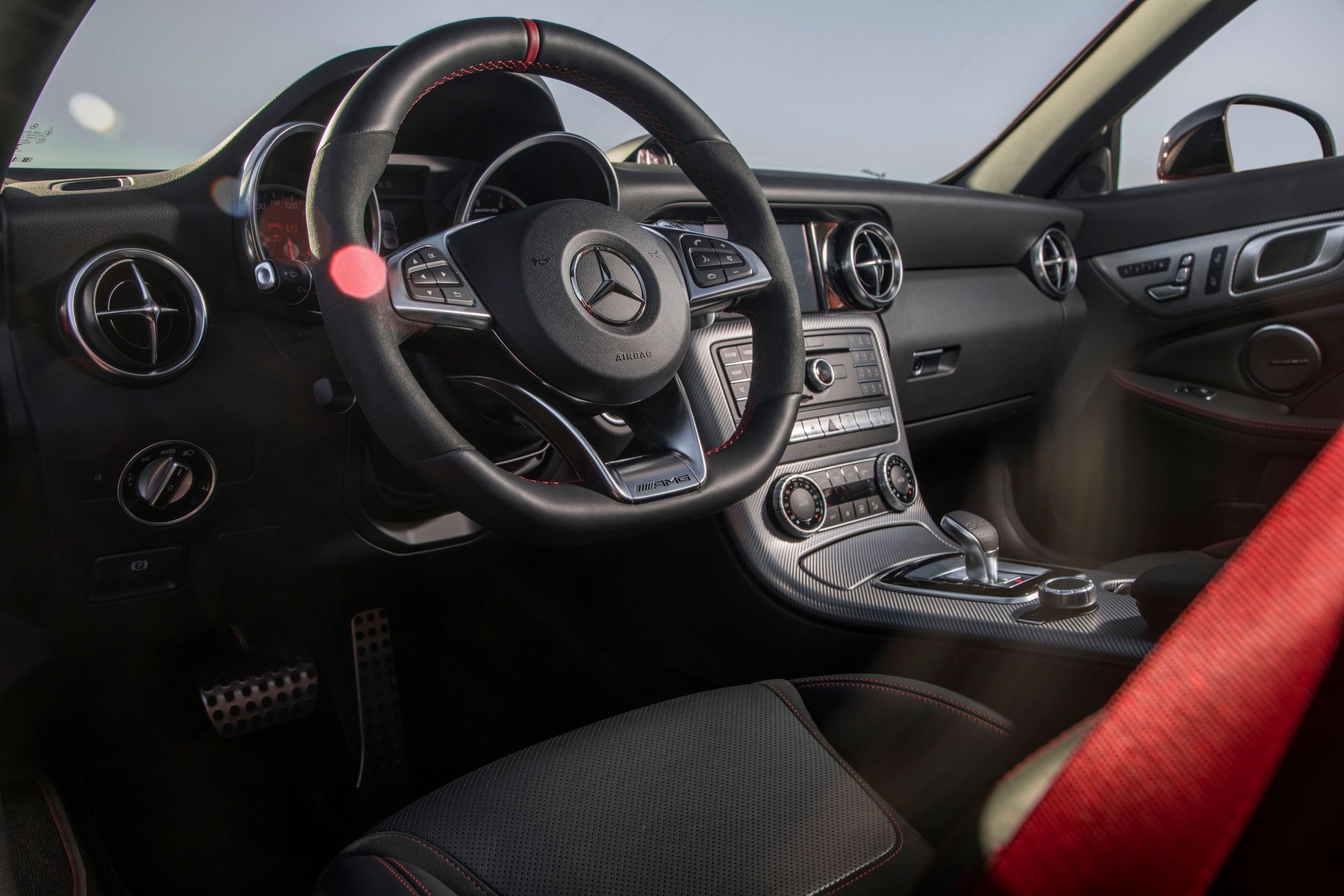 The IIHS and NHTSA have not tested the 2017 SLC-Class for safety, but it does come well-equipped with plenty of safety features. These include traction control, forward collision warning with automatic emergency braking, driver-drowsiness monitor, and more.
Expect a full review closer to launch.
Pricing & Release Date
Nothing is official yet, but we expect Mercedes-Benz to kick off 2018 SLC-Class production in June 2017, which will put it on dealer lots in July or August.
With no changes coming, we anticipate no major changes in pricing from the current model, which ranges from $48,875 to $61,225 (destination fees included).
There is not much in terms of direct competition for the 2018 SLC-Class, but buyers can check out the Chevrolet Corvette, Porsche 718 Boxster, and Audi TT.
Pictured: 2017 SLC-Class