Model Preview
The Nissan LEAF will be completely redesigned for the 2018 model year. The new vehicle will boast more range, better technology and improved performance compared to the car it replaces.
In terms of styling, the new LEAF is heavily influenced by the Nissan Sway Concept introduced at the Geneva Auto Show back in 2015. Along with a brand's signature V-Motion grille, the car is noticeably lower and more aggressive looking compared to before.
The cabin features a completely updated look with an emphasis on premium appeal with higher quality materials, distinctive blue seat stitching and an all-new 7-inch touchscreen display. Like many new vehicles, the LEAF will now come standard with Apple CarPlay and Android Auto connectivity.
One notable addition is something Nissan calls an e-Pedal. Using just the accelerator, drivers will actually be able to start, speed up, slow down and stop. It's essentially an evolved version of the vehicle's regenerative braking system and can be turned on or off depending on the driver's preference.
In terms of performance, Nissan has made big strides in making the LEAF more appealing for the masses. The vehicle's range has been extended to 150 miles, an increase over the current model's 107 miles. That's nearly double the vehicle's original rating of 84 miles several years ago.
Interestingly, Nissan says it will release a more powerful, longer range version of the LEAF later as a 2019 model. There's no word yet what this will entail, but it's possible the automaker will aim to exceed a 200 mile range to compete with the Chevy Bolt EV.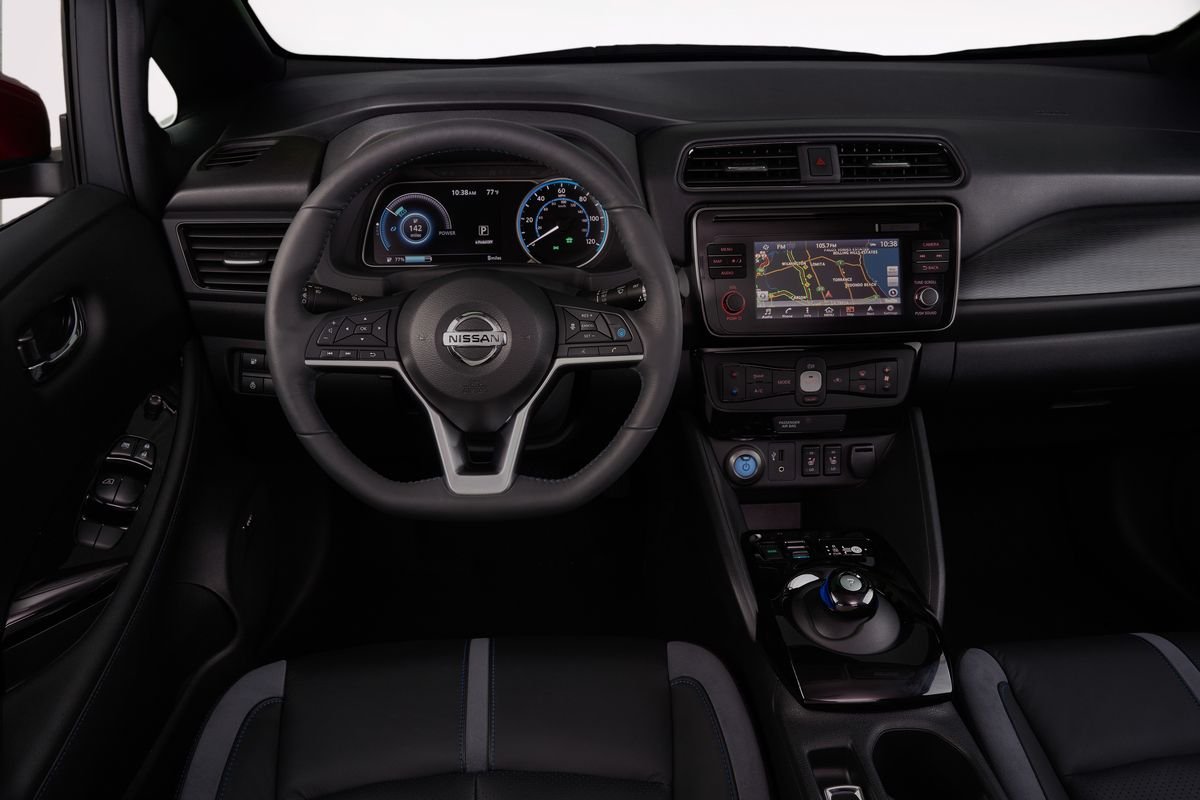 As far as charging goes, drivers will be able to reach 80% capacity with the onboard 40 kWh lithium-ion battery in as little as 40 minutes using a quick charging. With a standard home outlet, the time is considerably longer at 16 hours in order to reach full capacity. The new powertrain is rated at 147 hp with 236 lb-ft of torque. Like all EVs, you'll be able to feel that torque instantly unlike internal combustion cars.
Safety will be a strong point in the new LEAF thanks to the addition of the Safety Shield suite of driver assistance technologies. Along with features like forward collision alert with automatic emergency braking (AEB), drivers will also have the ability to use semi-autonomous driving with the available ProPILOT Assist that will be able to follow in traffic and keep the vehicle centered in its lane.
Expect a full review closer to launch.
Pricing & Release Date
The 2018 Nissan LEAF is due to arrive in early 2018. Dealers are beginning to take requests now.
Official pricing will start at $30,875 including destination, which is actually lower than the 2017 LEAF's MSRP of $31,565. In this sense, buyers will clearly be getting a lot more for their money by buying the latest version.
Note that this is all before applicable state and federal incentives. Here in California, the current LEAF is eligible for a $2,500 Clean Vehicle Rebate (CVRP) based on income. The IRS also offers up to a $7,500 plug-in credit for eligible tax filers.
Key competitors will include the Chevrolet Bolt EV as well as the Tesla Model 3.
Learn about the current LEAF on sale now »
Pictured: 2018 LEAF