Model Preview
Last year, the Nissan Titan underwent a massive overhaul after what seemed like ages. With its redesign still plenty fresh, we expect no changes for the 2018 model year.
As a carryover pickup, we expect the 2018 Nissan Titan to be virtually identical to the current model. It will continue with its more rugged appearance and variety of cab and bed options.
Inside, we expect the 2018 Titan will remain the same as well. It will continue with its roomy seating and neat storage options. Unlike other pickups, the Titan's interior is more functional than pretty, preferring intuitively placed buttons and knobs to other models' touchscreens and sleek controls.
With its looks carrying over, we also expect the standard features to remain the same. This means the base Titan S will continue its delicate mixture of utilitarian and modern features with its standard cloth seats, vinyl floors, lockable tailgate, cab-mounted LED bed lights, keyless entry and ignition, 5-inch color display, Bluetooth connectivity, and six-speaker audio system.
Currently, the Titan is only available with a 5.6-liter V8 engine that produces 390 horsepower and 394 pound-feet of torque, and we expect this engine to remain unchanged. Nissan has also long promised a base V6 engine within the 2017 model year, but it has yet to release the details on it.
We do, however, expect this engine to be a part of the 2018 lineup. Rear-wheel drive will continue to be the standard setup, but four-wheel drive will be available as an option. Max towing will remain at 9,390 pounds, while the payload capacity will stay the same at 1,610 pounds.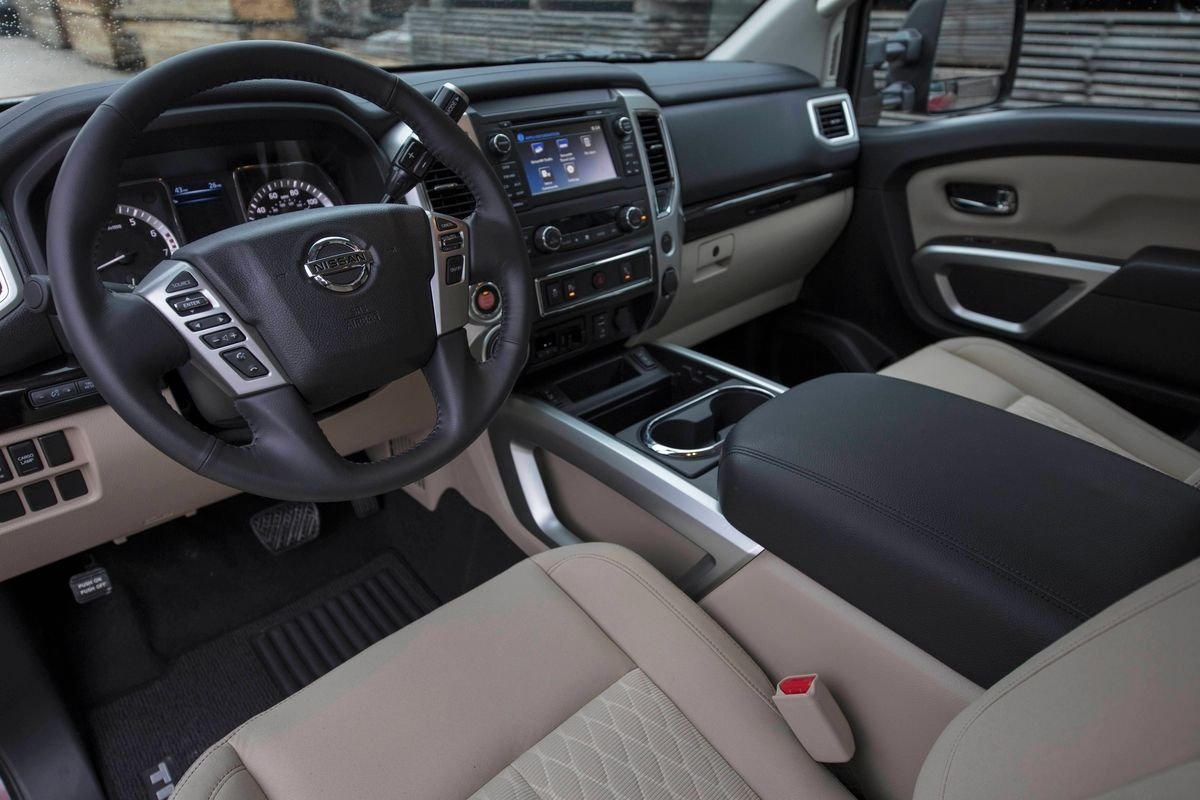 The Nissan Titan struggled a bit in IIHS testing, getting just a marginal rating in the small-overlap test. Fortunately, it scored good ratings in the other four tests.
Because it has no automatic emergency braking, the current Titan doesn't have a front crash prevention rating. The 2018 model will continue this trend, as this pickup isn't one of the seven Nissan models gaining this important safety features in the new model year.
Expect a full review closer to launch.
Pricing & Release Date
Based on production estimates, we expect the 2018 Titan to hit showrooms in November 2017.
Because it's a carryover model, we don't believe we'll see major changes to the Titan's pricing, which currently ranges from $30,775 to $57,045. The only change we expect is a lower starting price once the V6 model debuts -- stay tuned for updates on that.
Competition for the 2018 Titan will include the Toyota Tundra, Chevrolet Silverado 1500, and Ford F-150.
See pricing & deals on the current Titan on sale now »
Pictured: 2017 Titan