Model Preview
The Ford Ranger is expected to return for 2019. Last sold back in 2011, the long-running small pickup was discontinued due to sagging sales. However, a resurgence in demand for small pickups has reportedly caused Ford to rethink its strategy of relying almost entirely on the F-150 and its wide array of configurations to suit the needs of buyers.
At the moment, it's still unclear if the Ranger will resemble the version that has been available overseas. It also remains uncertain if the vehicle will use the same sort of weight-saving aluminum construction used in the F-150 for increased fuel efficiency. We should know more once details are announced regarding plans to build the Ranger at Ford's Michigan Assembly Plant.
Overseas, the Ranger is offered with a choice of two diesel engines. Although it's unlikely the same powertrains will be offered here in the U.S., there's always the possibility given that competitors like the Chevy Colorado and GMC Canyon already offer this capability. Currently, the Ranger is available with a 2.2-liter 4-cylinder engine rated at 158 hp with 284 lb-ft of torque. Alternatively, Ford also offers a 3.2-liter 5-cylinder making 197 hp with 346 lb-ft.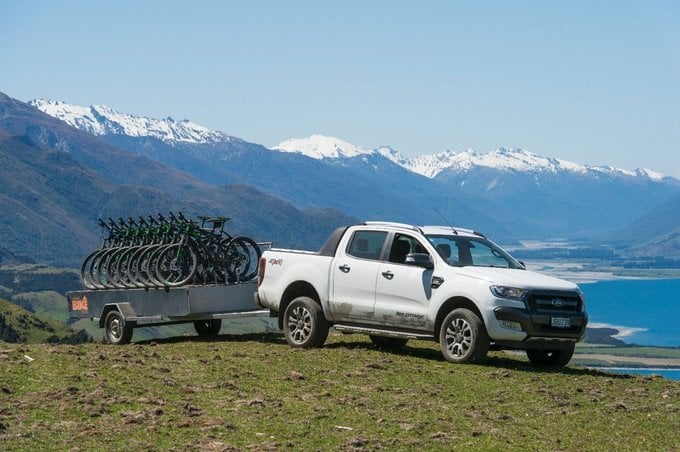 Will Ford offer a range of powertrains in the Ranger? Will we get a version of the power-packed Ranger Raptor that's expected to go on sale abroad? That remains to be seen.
We'll update this page as new information becomes available.
Pricing & Release Date
The 2019 Ford Ranger is expected to begin production sometime in late 2018.
Official pricing is still a long way off. For reference, the F-150 currently starts at $28,675 including destination for an entry-level XL 4x2 Regular Cab.
The Chevy Colorado, a potential direct rival, starts around $25,000 to $27,000 (excluding the entry-level version that's advertised from $20,995 but is rarely stocked).
Ford will likely face challenges in making the Ranger affordable in relation to the F-150. Given that rebates often make the F-150 an attractive prospect in a segment that often boasts deals worth up to $10,000, it will be interesting to see how the automaker chooses to position the Ranger.
Key competitors will include the Toyota Tacoma, Chevrolet Colorado and Nissan Frontier.
Learn about the current Ford lineup »
Pictured: Overseas-spec Ranger