Model Preview
The 2019 model year is just around the corner, and Porsche is getting us ready for what's in store with a detailed look at the 2019 Cayenne. This totally redesigned SUV will gain a new, albeit recognizable, look, enhanced performance, an upgraded interior, and lots of weight reduction.
The body will be instantly recognizable as a Cayenne, which is not unusual for Porsche redesigns -- talking about you, 911. But enough will change to set the 2019 Cayenne apart from the current generation. The changes will include a flatter front grille with less separation between the center and outer air inlets, revised headlights, a less pronounced power dome on the hood, wider and thinner taillights connected via a light bar with "Porsche" text, a restyled liftgate, a new rear bumper with better hidden reflectors, and an update lower bumper insert and exhaust outlets.
In terms of footprint, the Cayenne's wheelbase will remain unchanged at 114 inches, but its length will grow to 194 inches and its width will drop to 78 inches with the mirrors folded. This added length will allow the cargo area to grow by 15 percent to 27.19 cubic feet. Despite being longer and roomier, the 2019 Cayenne will be 143 pounds lighter.
Inside, the 2019 Porsche Cayenne's interior will also be all-new but easily recognized. It will get a new 12.3-inch, full-HD touchscreen, which will force the central air-conditioning vents to move from flanking the screen to under it. The rest of the air vents get mild design tweaks. The center console will get a slew of changes, as Porsche will reorganize the numerous buttons, cut down on the number of buttons and knobs, and replace some of them with touch-sensitive units. Other design changes will include a thinner and wider looking dash, and completely reworked door panels.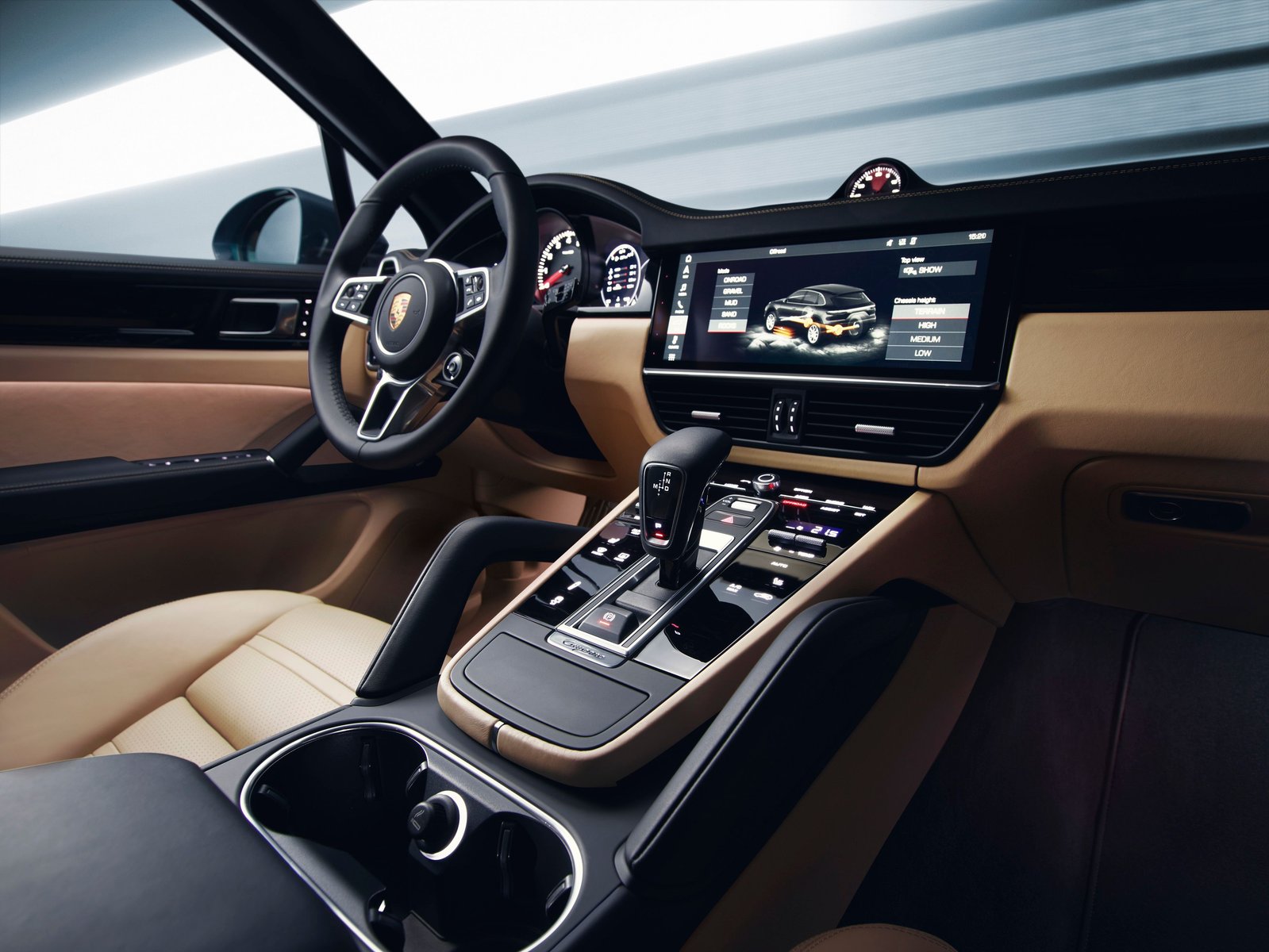 Under its hood, the 2019 Cayenne will undergo massive changes. The base engine will be a 3.0-liter turbocharged V6 that will produce 340 horsepower and 332 pound-feet of torque. The Cayenne S will gain a 2.9-liter twin-turbo V6 that will pump out 440 hp and 406 lb-ft of torque. Both models will use an eight-speed Tiptronic S transmission. Details on the Turbo, Turbo S, and GTS models are not available yet.
These powertrain improvements will put the base 2019 Cayenne's 0-to-60 time at 5.9 seconds and the S models' sprint time at 4.9 seconds. Add the optional Sport Chrono package, and these times will drop by 0.3 seconds. Respectively, the top speed of the Cayenne and Cayenne S will ring in at 152 and 164 mph.
The IIHS hasn't tested the current Porsche Cayenne for safety, and it is too early to tell just how well the 2019 model will do. Stay tuned for updates in this department.
Pricing & Release Date
Porsche expects to have 2019 Cayenne in showrooms by mid-2018.
Pricing will start from $66,750 for the base model and $83,9540 for the S model (destination fees included).
Competition for the 2019 Porsche Cayenne will include the BMW X5, Jaguar F-Pace, and Mercedes-Benz GLE-Class.
Learn about the current Cayenne on sale now »
Pictured: 2019 Cayenne