Redesign Info
The Volkswagen Jetta is due for its next major redesign for 2019 when it will reportedly move to the automaker's modular MQB platform. Like the seventh-generation Golf, the entry-level sedan is expected to feature a more refined driving experience than previous iterations.
Initial concept images released by VW show a familiar overall shape with a low, planted stance. According to Automotive News, the automaker aims to make more standard tech a selling point for the Jetta.
Standard LED lights, an available digital cockpit and a post-collision braking system all appear to be on tap, although no official specs have been revealed just yet. Sadly, there are no indications that advanced features like automatic emergency braking and adaptive cruise control will become standard.
Under the hood, the Jetta will most likely continue to feature the same 1.4-liter turbocharged base engine as the current car producing 150 hp with 184 lb-ft of torque. Automotive News reports that the powerplant will be offered with a choice of either a 6-speed manual transmission or an 8-speed automatic. The current car features a choice between a 5-speed manual and a 6-speed automatic.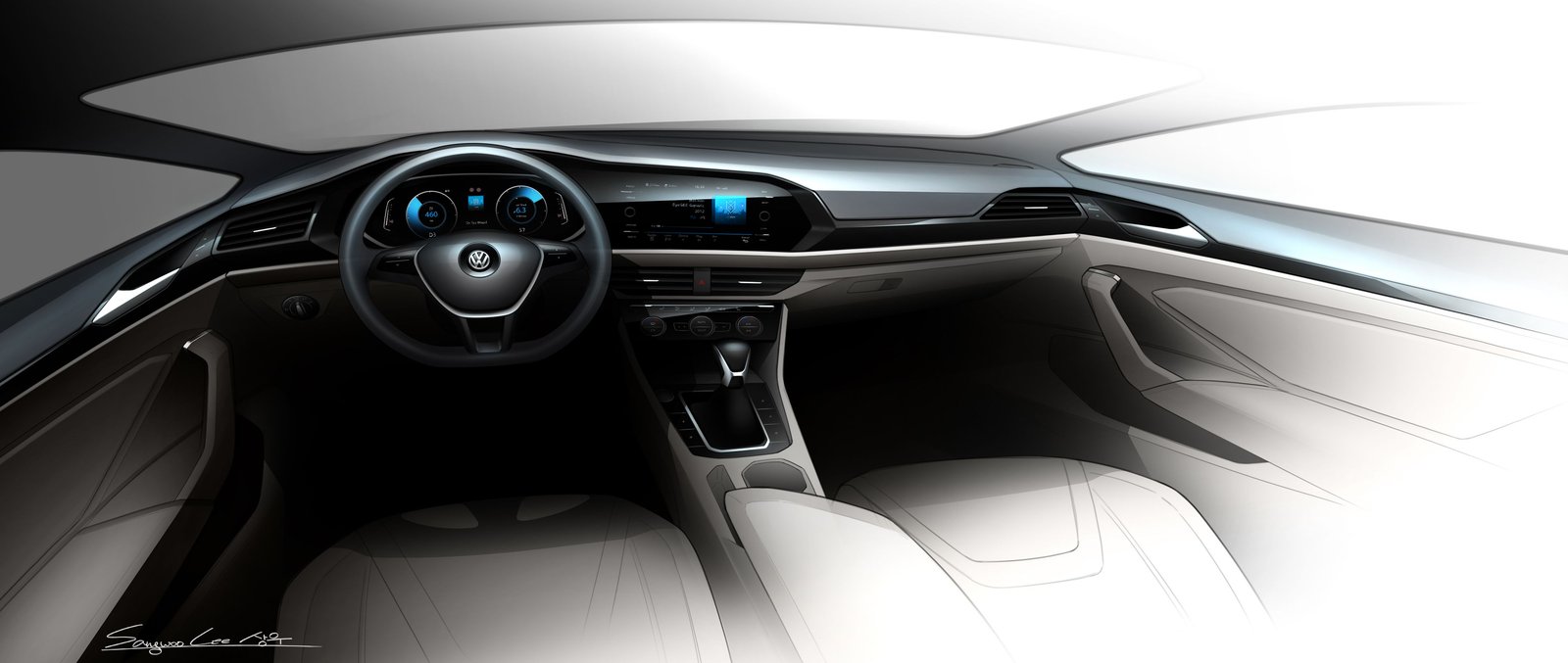 Reports indicate VW has been developing a 10-speed dual-clutch transmission that will shift even faster than the current DSG dual-clutch automatic in the range-topping GLI. However, there has been no official confirmation as to whether or not the new Jetta will get this technology, at least in North America.
Unfortunately, there are no indications yet of what prospective buyers can expect further up the range. For reference, the current mid-level engine is a 1.8-liter turbo making 170 hp with 184 lb-ft of torque. The range-topping GLI uses a larger 2.0-liter turbo producing 210 hp with 207 lb-ft.
It remains highly unlikely that VW will offer a turbodiesel version of the Jetta. The company has said it will not market diesels to the same extent as before and will invest heavily in the development of plug-in electric vehicles.
Stay tuned for updates.
Pricing & Release Date
The 2019 Volkswagen Jetta is expected to arrive sometime in late 2018.
Official pricing is still a long way off. For reference, the current car starts at $19,495 including destination with a manual transmission and ranges up to $30,395 for the performance-oriented GLI model.
We suspect VW will aim to keep the Jetta affordable with a base price in the $20,000 range to remain competitive with vehicles like the Toyota Corolla, Honda Civic, Ford Focus and Chevrolet Cruze.
Learn about the current Jetta on sale now »
Pictured: 2019 Jetta Concept