Model Preview
The Volvo XC60 underwent a full redesign for the 2018 model year. Because this look is still so fresh, we anticipate a complete carryover when the 2019 XC60 debuts.
As a carryover, we expect the 2019 XC60's exterior to remain exactly the same. This shouldn't pose even the slightest issue, as the vehicle's redesign took inspiration from the popular XC90 -- and by "inspiration," we mean it's almost literally a scaled-down version. The same goes for the interior, as we anticipate its upgraded cabin to remain completely unchanged.
The array of standard features included with the 2019 XC60 should be the same as the 2018 model. If this is true, look for its base T5 Momentum trim to come standard with 18-inch alloy wheels, LED headlights and taillights, automatic high beams, a power liftgate, leather upholstery, a panoramic sunroof, automatic dual-zone climate control, a 10-speaker audio system, and more.
We also expect the 2019 Volvo XC60's under-hood bits to remain completely unchanged. Look for the T5 models to continue with a 2.0-liter turbocharged four-cylinder with 250 horsepower and 258 pound-feet of torque.
Moving up to the T6 adds a turbocharged and supercharged 2.0-liter with 316 hp and 295 lb-ft of torque. Finally, the T8 offers a 2.0-liter supercharged and turbocharged four-cylinder and an electric motor to create 400 hp and 472 lb-ft of torque. All three powertrain options will include an eight-speed automatic transmission and all-wheel drive.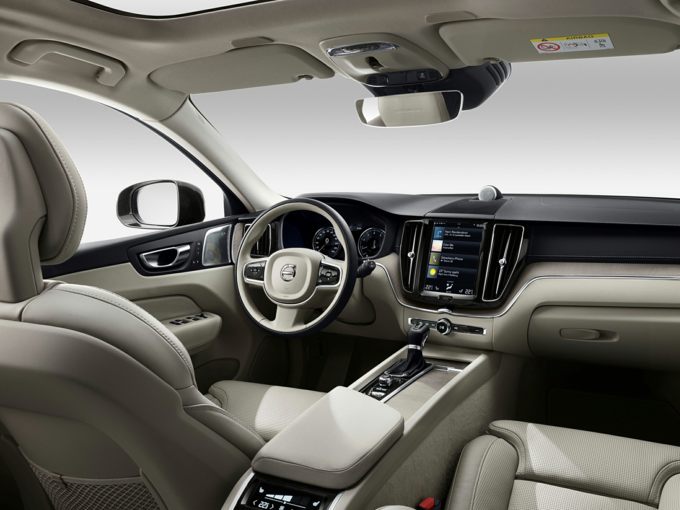 Volvo has a long-standing tradition of offering some of the safest vehicles on the road, and this continues with the current XC60. It is an IIHS Top Safety Pick+, and with no changes in the works, we expect this to remain the same in the 2019 XC60.
Pricing & Release Date
There is no official release date yet for the 2019 XC60, but we expect to see it in the fall of 2018.
Pricing also remains uncertain for now, but with no changes in store, we don't expect to see any big pricing swing. The 2019 XC60's price range should be similar to the 2018 model's $42,495 to $57,695 range (destination fees included).
The key competition for the 2019 XC60 will include the 2018 BMW X3, the Mercedes-Benz GLC-Class, and the Jaguar F-Pace.
Learn about the current XC60 on sale now»
Pictured: 2018 Volvo XC60