Crossovers are growing in popularity because they blend the cargo, height, and off-roading capabilities of an SUV with the handling and fuel efficiency of a sedan. Like a station wagon on steroids, crossovers, or CUVs (Crossover Utility Vehicle) reflect the shift from larger, less-efficient SUVs to smaller, lighter and more functional ones.
Our CarsDirect editors chose nine crossovers that represent the best in style, safety, luxury, utility and fuel efficiency, making it easier for you to find one that meets your budget and lifestyle.
Crossovers Under $25,000
Representing the most unique breed of crossover, these box-like vehicles are a break from the traditional SUV design. Not only do they share similar styling cues, but they are very affordable and appeal to young drivers who value fresh and funky styling.
Kia Soul
Uncompromising value is at the heart of the 2012 Kia Soul crossover, a car that offers everything you could possibly want in a vehicle under $15k. The Soul was redesigned for 2012 and includes two new engines that generate an ample 138/164 horsepower, all while delivering an exceptional 26-27/34-35 mpg. In typical hybrid fashion, the engine shuts down when you approach a stoplight and then restarts once you take your foot off the brake pedal. Still not sure? Maybe Kia's class-leading 10-year/100,000 mile powertrain warranty will change your mind.
Nissan Cube
Innovative and youthful design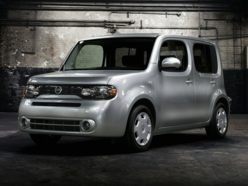 Standing out in a crowd has never been hard for the Nissan Cube. No matter what they call this car, the designers at Nissan were thinking outside the box with this one. Literally a cube on wheels, this crossover features a distinct wraparound window and a dash-mounted shag-toupee. If that isn't unconventional enough for you, the numerous factory-ordered exterior designs (racing stripe, grid of cubes, flower, etc.) should do the trick. While the Cube might have the weakest engine of the group, it's extremely fuel efficient at 27/31 mpg.
Scion xB
Original box-like crossover with best-in-class space
In 2004, the boxy Scion xB brought a never before seen dimension to the crossover segment. The unique design allows for class-leading interior space, even besting some midsize SUVs. Despite looking like a box on wheels, the xB handles surprisingly well. The xB exudes youthfulness with a standard six-speaker Pioneer audio system that can be upgraded to include a LCD color touch-screen, HD Radio, iTunes tagging, Pandora Internet radio and more. Like others in this segment, the xB can be customized from an extensive list of aftermarket accessories and body kits.
Crossovers Under $35,000
This crop of crossovers has three things in common: They're well made, spacious, and provide more off-roading capabilities than the previous segment.
Ford Edge
Looking sharper than its name suggests, the 2012 Edge is the best looking crossover in its class. The Edge is our top pick in this class because of its phenomenal power-to-efficiency ratio. Consider that the Edge gets 21/30 mpg, while generating 240 horsepower from its aptly named EcoBoost engine. At just the right size for a family, the Edge boasts ample cargo space and up to 3,500 pounds of towing. Those are just a few of the impressive features that make the 2012 Ford Edge our favorite in the midsize crossover segment under $35k.
Subaru Outback
Versatility for off-road driving
Named after one of the most desolate and harsh areas on Earth, the 2012 Outback conveys the idea that no terrain is too tough. More wagon than SUV, the 2012 Outback crossover offers 8.7 inches of ground clearance so you can handle dirt roads and minor obstacles with ease. Carry up to 150 pounds on roof rails that connect via extending horizontal bars. Storing your cargo is extremely convenient when you have 71.3 cubic feet to play with. What sets the Outback apart from other off-road-oriented crossovers is that it provides a smooth and comfortable ride on paved roads.
Toyota Venza
Family-friendly and reliable
Parents have enough to worry about these days. Thankfully, the reliable 2012 Venza isn't one of them. From soccer moms to Scout leaders, the Venza's low beltline makes it much easier to load and unload precious human cargo. Toyotas are renowned for their dependability, safety and high resale value, making the Venza a practical choice for families. Ample cargo space and attractive styling makes the 2012 Venza a sensible, yet fun option compared to bigger and bulkier SUVs and minivans.
Crossovers Under $45,000
Each of these vehicles offers something different in the luxury crossover segment. From high-tech, to style, to safety, these crossovers are simply the best.
Lexus RX 350
Perfect blend of technology and luxury
Is it a Small SUV or a Crossover? It doesn't matter because the RX is hands-down the best of both segments. With the 2012 RX 350, you can get the latest in high-tech features, highlighted by the intuitive Remote Touch interface. Control all cabin settings from a mouse-like knob on the center console so you can focus on driving. The RX 350 appeals to drivers who value style, sophistication and roominess in everyday driving.
Cadillac SRX
Timeless sophistication meets modern style
The youthful, adventurous, and bold 2012 Cadillac SRX crossover has no problem standing out in luxury crossover segment. Arguably the best-looking CUV in its class, the SRX appeals to all age groups. Forget about your grandfather's Cadillac, the SRX represents a new wave of American refinement and style. A touchscreen rises out of the dash once you start the SRX, while the new Eco mode provides enhanced fuel efficiency.
Volvo XC70
Sets the bar for safety in any segment
It's no secret that Volvo is synonymous with world-class safety. Parents will be reassured of that fact in the 2012 XC70 and its integrated two-stage child booster cushions. Depending on the size of the child, the rear seat cushions can be raised, helping to position the child at the right height for the safety belt to work properly. Stow the rear seats and secure two bikes inside the cargo area with adjustable floor rails. A horizontal rail system allows you to configure the divider horizontally or vertically in seven different positions to best organize your cargo.