Like a Rolex or a bottle of Dom Perignon, a luxury car signifies the best of the best: precision construction, hand crafted leather seats, spacious interiors, world class engineering, and brands that speak volumes without ever saying a word. More than anything, though, luxury sedans represent a level of success and achievement that most drivers aspire to.
Our CarsDirect editors took many different criteria into account and selected the top three luxury cars in each of four different price ranges. And while the ultra-luxury vehicles on this list may be out of reach for many consumers, our selections also include members of the growing segment of moderately priced luxury vehicles that offer style and class at a reasonable price.
Luxury Cars Under $35,000
Those looking to crack the luxury seal for the first time can't go wrong with any one of these fine automobiles. Typically, this segment is a blend of low-end luxury brand vehicles, as well as top-flight models of non-luxury brands.
BMW 328
Best all-around luxury car in this segment
BMWs aren't just status symbols - they're also exceptionally well-made cars. Although the redesigned 328 is the entry-level sedan in the renowned BMW 3 Series, it sets the standard for what a luxury car in this segment ought to be. Because of its manageable price, the 328 is a great entry-level luxury vehicle. The 2012 328 provides additional room and a turbocharged four-cylinder engine that gets more power, torque, and enhanced fuel efficiency than the previous model. The 328 sedan is the best all-around luxury car in its class, and the benchmark for which all others are measured.
Audi A4
Excellent fuel efficiency and sleek design
Like the BMW 328, the 2012 Audi A4 is exceptionally well-made and serves as an attractive, sporty sedan for those looking for a youthful alternative to the other vehicles in this segment. A clean interior design and drop-dead gorgeous exterior showcase the A4's appeal. For a luxury car, the A4 gets excellent gas mileage, with an EPA-estimated 21/30 mpg. Handling is responsive and the ride is quiet and smooth, which is par for the course in this segment.
Cadillac CTS
Bold styling and class-leading power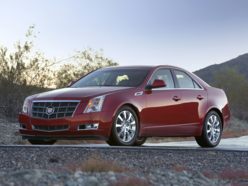 Feel the might of Detroit-built horsepower and design behind the wheel of the 2012 CTS. In the past, Cadillac has exemplified American styling with long, smooth, boat-like sedans. But this is a new day, and the CTS's modern styling and segment-leading power (270 horsepower) exude strength in every way. A thick, pronounced hood gives way to a wide, dark-accented grille, giving the CTS an intimidating look that commands attention. With heated, 10- way leather seating, Sapele wood trim, and a Bose sound system, luxury surrounds you in this Cadillac.
Luxury Cars Under $50,000
Also known as the mid-level luxury sedan segment, these beauties offer enhanced performance, spacious cabins, and advanced technology.
Audi A6
Best looking and technologically advanced in this segment
After living in BMW's shadow for years, the redesigned 2012 Audi A6 is the new leader in the midsize luxury class. Boasting a combination of polished style, progressive technology features, and lively handling, the A6 has officially put BMW and Infiniti on notice. The A6 borrows design cues from the A8, with a longer wheelbase, improving aesthetics, and roominess. Technology meets function with available automatic parallel parking, a heads-up display, night vision with pedestrian detection, and mobile Internet. With the A6, you get a car that handles as good as it looks.
BMW 528 Sedan
Autobahn-inspired performance with eco-minded fuel efficiency
With the A6 breathing down the BMW 528's neck, the fact remains that the 528 is still a BMW. The most notable new feature of the 528 is the turbocharged four-cylinder engine that replaces the stalwart V6. The 528 is lighter and features enhanced fuel efficiency (23/34 mpg) and greater torque (260 pounds-feet) for improved performance. Wet roads and poor driving conditions are no match for the all-wheel-drive 528 xDrive sedan. You can rest assured knowing that the 528 received a 5-star safety rating from the NHTSA and a top-rating of "Good" from the IIHS.
Infiniti M37
Best safety technology of the bunch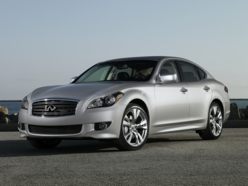 Although the 2012 M37 doesn't have the pedigree of the aforementioned German luxury sedans, it does have the most horsepower (330) and torque. Like the BMW 528 xDrive, the M37x provides a tight ride with excellent grip. Infiniti's Safety Shield concept offers layered technologies that work in concert to keep you safe. The industry-first Intelligent Cruise Control, Distance Control Assist, Lane Departure Prevention, Blind Spot Intervention System, and Intelligent Brake Assist work together to detect, assess, and react to potential accidents. Wave-like curves and a more-pronounced center console and dash separate it from the stoic and taut German designs.
Luxury Cars Under $80,000
This segment includes the cream of the mid-level luxury crop and the bottom level of the high-end field. Featuring the freshest automotive technology, interior comfort and inspired styling, this group of cars are showstoppers in every way.
Audi A8
Futuristic, spacious, fun, and everything else you could want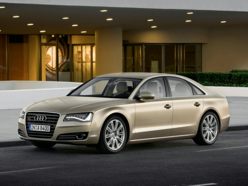 When it comes to looks, the 2012 Audi A8 drinks the BMW 740's milkshake. Named "best large luxury sedan" by Road & Track and Car and Driver, the A8 is the real deal. An individual operating rear console, refrigerator, and dual 10-inch screens in the rear headrests make being a backseat passenger almost as appealing as being the driver. The A8 is longer and lighter than its rivals, allowing the powerful 372-horsepower V8 engine to receive an excellent 18/28 mpg. Great looks and efficient yet sporty handling raise the 2012 A8 to the apex of luxury sedan manufacturing.
BMW 740
The 2012 BMW 740 blends a spacious and refined cabin with autobahn-inspired handling, making it the crown jewel of the BMW fleet. To the dismay of 7 Series purists, the 740 only offers an inline-six engine. That being said, it's a turbocharged inline-six that delivers 315 horsepower and can rocket from zero to 60 mpg in 5.8 seconds (that matches some luxury V8s). The BMW 740 drives like a much lighter sedan, with active steering, rear-wheel drive and Driving Dynamics Control for sharp and firm handling. The extended wheelbase 740L offers six more inches of leg and headroom for restless backseat passengers.
Mercedes-Benz CLS550
Best looking and best bang for your luxury buck under $80k
Is there a sedan under $80k that looks as good as the redesigned 2012 CLS550? Mercedes took a bold step into the future by giving the CLS550 a coupe-like slippery shape – but it works. The CLS550 is book-ended by an awesome rectangular exhaust note, and the iconic Mercedes insignia on the grille. With a new 402-horsepower twin turbo 4.7-liter V8, the CLS550 proves that its bite is as serious as its bark. The Airmatic adaptive suspension and more rigid structure allow the CLS550 to take corners with confidence. Forget about loading up on Red Bull and coffee because Attention Assist continuously monitors different parameters of driving behavior and can automatically alert the driver with both visual and audible warnings if it detects signs of drowsiness.
Luxury Cars Under $100,000
Leather, leather, and more leather. No, it's not a bondage party. It's just what you'd expect from luxury cars that hover around the $100k mark. These cars are extremely fast, ridiculously opulent, and above all, iconic.
Porsche Panamera
All the benefits of a Porsche - but with four doors
Imagine a sports car with four doors, room to fit your family, and enough power to effortlessly glide past most cars on the road. That's exactly what the 2012 Panamera brings to the table. The Panamera is so sturdy it feels like it's machined from a single billet of aluminum. With enough room for four full-size suitcases, you won't have to ditch the sports car of your youth, for the practicality of adulthood. Don't be fooled by its sporty exterior, the Panamera is adorned with leather and features a center console that extends into the backseat, giving each passenger a sports-bucket experience.
Mercedes-Benz S-Class
The pinnacle in sophistication and technology
Old world refinement meets new world vision in the super-luxury 2012 S-Class. World-class craftsmanship is what you'd expect from a Mercedes in this price range and the S-Class doesn't disappoint. Top-stitched leather is fitted to each seat by hand, and rich, sustainably sourced and hand- polished wood adorns the center console. The industry first SPLITVIEW front-seat entertainment system simultaneously displays different images to the driver and front- seat passenger on a high-resolution 8-inch LCD. Don't let the posh interior fool you. There is serious power lurking beneath the hood. A S350 BlueTEC V6 diesel engine not only receives 31 highway mpg, but gets a walloping 455 pounds-feet of torque. That's impressive, but not as awesome as the S550's segment-leading 516 pounds-feet.
Jaguar XJ
If performance is what you're after, the 2012 XJ's segment-leading 470 horsepower is as quick and powerful as its feline namesake. Although the XJ benefits from modern styling, Jaguars in general have been known for their beautifully crafted shape and timeless design. There are 10 finely crafted veneers to choose from and Leather surfaces can be selected in 11 colors and three grades depending on model: Softgrain, Semi-aniline and Semi-aniline Tipped. Up front, there are 16/12-way power seats with active ventilated heating and cooling. At night, the interior of the XJ is illuminated in Phosphor Blue halo lighting around the center console and door panels, breathing life into your drive.