For a lot of drivers, owning a truck is not only about payload and towing capacity, it's also a way of life. Trucks embody a certain 'can do' attitude, and are the go-to vehicles for rugged worksite use and personal towing needs. Trucks are not only getting bigger every year, but they are providing more comfort and power than ever before, proving once again that too much truck is never enough.
Taking factors like price, lifestyle, and capability into account, our Carsdirect editors selected the top three trucks in each segment.
Best Midsize Trucks
The midsize segment is a versatile group that provides a little bit of everything. With a smaller build, midsize trucks are capable of navigating through the city as well as the country and usually feature moderate off-roading/trailering capabilities. Both the Tacoma and Frontier have a base price under $20k, so you won't have to spend a truck-load of money on a pickup.
Toyota Tacoma
Most affordable and efficient in this class
The 2012 Tacoma is a solid all-around pickup truck that is nimble enough for city driving, but won't hesitate to get its hands dirty. The front-end received a more streamlined and bold look for 2012, adding to its tough-guy image. Its tough exterior gives way to advanced technology inside the Tacoma's cabin with the impressive web-based Entune system. Entune reads your texts and emails, manages your Pandora music account, and features iTunes tagging. The Tacoma's low base price (just under $17k) and fuel efficiency (21/25 mpg) are the best in this segment. Drivers who spend a significant amount of time getting muddy will enjoy the TRD Off-Road Package with Bilstein shocks, BFGoodrich Rugged Trail tires, and progressive-rate front springs.
Nissan Frontier
Best cargo bed versatility in this segment
Hauling a large payload has never been easier than with the 2012 Frontier's innovative Utili-track cargo system. A series of channels run length-wise in the bed and along the inner walls, with cleats that can slide, move and tighten down, allowing you to anchor up to 1,524 pounds of cargo with multiple hooks. When it comes to towing, the 2012 Frontier is on par with the Tacoma and superior to the Ridgeline. The off-roading PRO-4X package delivers equal power to the rear wheels, boosting traction and enabling you to boldly go where no one's gone before.
Honda Ridgeline
Unique and attractive styling sets this truck apart from the rest
More than any other truck in its class, the 2012 Ridgeline combines the cab and spaciousness of an SUV with the ruggedness and payload flexibility of a truck. Because of its unique design, the Ridgeline offers several storage compartments and configurations that can accommodate all kinds of cargo. A dual-action tailgate opens down or to the side and an 8.5 cubic-foot lockable in-bed trunk compartment offers a hidden area, creating more storage room on the dent-resistant bed. The Ridgeline is the most expensive of the three listed here, and you won't tow as much as the other two trucks. However, its payload, cargo possibilities, and interior quality are top-notch.
Best Full-Size Trucks
Also known as 'Half-ton' pickups, these best-selling trucks represent the manufacturer's bread and butter segment. Towing/payload capacities take a big leap, making these trucks more practical for the worksite and for personal use. At their core, these three trucks are essentially the same in terms of towing and payload capacities. In order to stand out, these full-size trucks are built with unique conveniences and small luxuries.
Ford F-150
Best-in-class full-size truck for a plethora of reasons
With so many segment-leading features, the F-150 should just change its name to 'Best-in-Class.' The 2012 F-150 was named Motor Trend Truck of the Year, and receives best-in-class marks for towing (11,300 pounds), payload (3,060 pounds), and fuel efficiency (17/23 mpg). It also has the most spacious cargo box (81.3 cubic-feet). Ford's innovative 365-horsepower, 3.5-liter V6 EcoBoost engine generates big-time torque (420 pounds-feet total), while providing an impressive 16/22 mpg. With the 2012 F-150, you won't have to worry about having enough truck when the going gets tough.
Dodge Ram 1500
Smoothest ride and most luxurious cabin in its class
The F-150 may boast many best-in-class attributes, but the 2012 Ram 1500 has an ace up its sleeve with best-in-class ride quality. The Ram 1500 is extremely well-rounded with ample power and luxurious western/outdoors-themed appointments. Enjoy a car-like ride and plenty of space without compromising hauling or towing, which is a cinch with the Ram's V8 Hemi. The Laramie Longhorn trim is inspired by the old west and features taupe silver accents, rugged floor mats with snap-in Berber carpet and saddle-bag seatbacks. Hunters who can live without fine-stitched leather can blend into their surroundings with the optional camouflage seat covers in the Outdoorsman model.
Toyota Tundra
Extremely reliable with a spacious cabin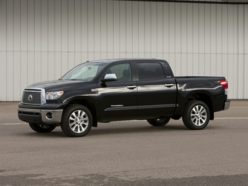 Knowing that your truck will work well for a long time is part of Toyota's legacy. It's no wonder the Toyota Tundra has been named Most Dependable Large Pickup six years in a row by J.D. Power and Associates. The Tundra comes in many styles and configurations, but none are as spacious as the CrewMax cab – the largest cab in the half-ton segment. At just over $25k, the Tundra has the highest starting price of the three full-size trucks on the list. All-in-all, the Tundra is rock-solid dependable and very comfortable to drive.
Best Heavy Duty Trucks
Buyers who are serious about payload/towing capability and overall toughness will find what they're looking for in the heavy duty segment. These monstrosities appeal to in-the-field professionals that require strength and utility to get the tough jobs done. With triple the towing and payload capabilities of midsize trucks, you'll have no problem towing your boat, camper, or tractor. You'll notice that these three trucks are extremely similar when it comes to price and dependability, so it might come down to styling preference or brand allegiance.
Ford F-250/350
Industry leading super/heavy duty trucks
Labeled as 'Super Duty' trucks, the Ford F-250 and F-350 are used by more workers in the field than any other heavy duty truck. 'Workers in the field' are the people who work rough and rugged jobs, such as construction, metal mining, petroleum refining, forestry, agriculture, sanitation, and road/highway maintenance. An available 6.7-liter Power Stroke V8 turbo diesel delivers best-in-class fuel efficiency while mustering exceptional torque and horsepower. The F-Series Super Duty trucks are built for dirt roads, dirty jobs and toy-hauling capability.
Ram 2500/3500
Awesome torque and innovative storage compartments
Just like the Ram 1500, the 2500 and 3500 heavy-duty models differentiate themselves from the segment with spacious, luxurious interiors and comfortable, quiet rides. The Ram 2500/3500 is very capable and boasts a best-in-class 800 pounds-feet of torque when its 6.7-liter Cummins turbo diesel is paired with an automatic transmission. Storage space is maximized with the RamBox cargo management system that is built into the outer walls of the cargo bed just above the wheel wells. Waterproof and drainable, the RamBox is the perfect place to keep equipment and/or drinks. Under the 2012 Ram 2500/3500's façade is a smooth operator with a mean streak.
Chevrolet Silverado 2500/3500
Excellent option for heavy-duty trailering
Finely tuned like a Swiss watch, the 2012 Silverado 2500 and 3500 excel with precise steering and straight tracking when towing a heavy load. A strong Duramax 6.6-liter turbo-diesel is paired with an Allison transmission for towing numbers slightly under the previous two trucks. The Silverado's sturdy frame delivers a smooth ride and secure trailering features that help keep it under control. If you find yourself towing on downhill grades, an enhanced exhaust braking system reduces brake wear and increases vehicle stability while decelerating. You might not tow more with the Silverado 2500/3500, but you will have an easier time doing it.