Finding the right SUV is like shopping for a pair of shoes - there are many different styles that serve different purposes. Times have changed since the mid 90's when the truck-based Jeep Grand Cherokee and Ford Explorer ruled the SUV roost. As traditional SUVs grew in popularity, they branched out into the off-roading and crossover SUV segments to appeal to more drivers. Now you don't necessarily need a Chevy Silverado to tow your jet skis or a Jeep Wrangler to go off-roading. You don't need a Nissan Pathfinder to pick up your kid's soccer team or a GMC Yukon for that once a year camping trip.
Today you can find a SUV/crossover that will match your needs. Crossovers are the hottest trend in the SUV world and manufacturers are supplying the increased demand with passenger/cargo vehicles that have the utility of an SUV with the fuel-efficiency and driving impressions of a sedan. The Ford Explorer started out as a truck-based SUV but changed its construction to accommodate more city driving and is now classified as a crossover. This segment will continue to growing as long as gas prices continue to rise, which seems to be the case in 2012.
Best SUVs Under $25,000 (Top Compact SUVs)
Usually referred to as "crossovers," these smaller SUVs appeal to the budget conscious buyer who wants the size and capability of a standard SUV with the fuel economy and practicality of a sedan.
Honda CR-V
Most reliable crossover in this segment
The Elder statesman of the group, the Honda CR-V is the top selling crossover in this segment for a reason. With 185 horsepower, up to 26 mpg combined, and featuring Honda's legendary reliability, the CR-V provides the perfect mix of power, fuel-efficiency and practicality. If you're looking for passenger space and cargo room, the CR-V has you covered. With room to fit four comfortably and 37 cubic feet of cargo space, it's got more room than both the Tucson and the Sportage. Not content to rest on its laurels, the CR-V was redesigned for 2012, adding a sleeker look and upgraded materials, as well as an optional rear-seat DVD entertainment system, Pandora Internet radio, and text messaging function.
Hyundai Tucson
Restyled crossover provides top-notch overall value
Proving that this isn't your father's Hyundai, the 2012 Tucson crossover is sleeker and sportier than ever. The roofline flows downward toward the rear spoiler giving the Tucson the sculpted appearance of the Lexus RX 350. The Tucson's Euro-tuned suspension provides nimble responsiveness and the four-cylinder engine is efficient to the tune of 26 mpg in combined driving. Hyundai offers one of the best warranties in the business (five years/60,000 miles) reflecting their confidence in their product.
Kia Sportage
Excellent warranty and available V6 power
With an unbelievable warranty and starting price under $20,000, the Kia Sportage crossover gives you the ultimate bang for your buck. Like the Hyundai Tucson, the Sportage has a reassuring 10 year/100,000 mile powertrain warranty to go with a five year/60,000 mile basic warranty. Unlike the CR-V, the Sportage offers a V6 engine that provides some oomph to those who need to haul lumberjack-sized loads. The Sportage boasts aggressive styling especially with its eye-catching front-end which has an upward facing mesh grille and fog light connecting bumper.
Best SUVs Under $35,000 (Top Midsize SUVs)
Say goodbye to the SUV/crossover and hello to vehicles that really put the "sports" and "utility" in SUV. The next tier of SUVs features more seating, more horsepower and cutting-edge technology.
Ford Explorer
Best all-around SUV in this price bracket
The Ford Explorer is like a bottle of fine Scotch - it just gets better with age. The Explorer went through a major redesign last year making it edgy and attractive again. Ford touts that some configurations receive a best-in-class combination of V6 horsepower and fuel economy (22/26 mpg) making this sleek devil a no-brainer. Microsoft's SYNC communications and entertainment system with MyFord Touch features the latest in cutting edge voice-activated technology. Switching from the body-on-frame to a unibody structure has made for a smoother driving experience on paved roads. However, you can explore sand dunes, muddy jungle roads and snow-covered mountain tops with the available Terrain Management System.
Kia Sorento
Underdog SUV with more than meets the eye
Offering the best value in its class, the Kia Sorento has a new four-cylinder engine that offers enhanced fuel economy of 22/32 mpg, and a voice-activated control interface "Uvo." Also using a unibody frame, the Sorento provides more comfort across all three rows. What it really comes down to is that you will spend far less on the fresh-looking Sorento than most SUVs that offer V6 power and third row seating. And if that wasn't enough, the 2012 Sorento doubles-up the competition when it comes to its warranty of five years/60,000 miles (basic) and 10 years/100,000 miles (powertrain).
Toyota Highlander
Most spacious and family friendly in this segment
The 2012 Highlander is the perfect choice for tasteful drivers who value roominess and cargo space. With the first two rows stowed, the Highlander provides 95.4 cubic feet of cargo space so you can fit Scotland-sized cargo when needed. Cargo space can also be customized by sliding the second row back and forth giving more legroom to the second row passengers, while the removable center section stows under the center console for easy, on-the-fly access to the third row. The cabin isn't as futuristic as the Explorer, but it's sharp and intuitive.
Best SUVs Under $45,000 (Top Full Size SUVs)
By considering an SUV between $35 - $45K, you are entering a technology-driven world of class and reputation. These three selections showcase the segment's focus on technology, style and a host of other high-end goodies.
Lexus RX 350
Best safety technology with an emphasis on class
Cutting edge technology and convenience manifest together in the form of the Lexus RX 350. The RX 350 is Lexus' best-selling model, and for good reason. The Remote Touch interface controls your audio, navigation and other settings from a mouse-like device on the center armrest surrounded by leather upholstery and wood trim. The Heads-up Display projects directions and vehicle speed on the bottom portion of the windshield so you never have to take your eyes off the road. That's Lexus' ingenious way of making safety technology fun.
Land Rover Range Rover Evoque
Best newcomer with the accolades to prove it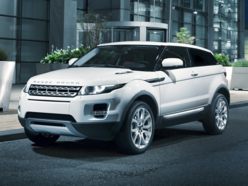 If judging the best SUV was based solely on style and looks, the all-new 2012 Range Rover Evoque would win hands-down. The Evoque jettisons the boxy Ranger Rover and LR Series design for a futuristic concept car look. Shift gears with a dial on the center console while rear seat passengers engage the entertainment system via a touch-screen remote. The Evoque earned Motor Trend's SUV of the Year honors due largely in part to its fresh style, features and fuel efficiency. Even though off-roading isn't the Evoque's priority, it still has it in its DNA. A 240-horsepower, turbocharged four-cylinder engine provides ample pop, while delivering an impressive 19/28 mpg.
Acura MDX
Most reliable with best-in-segment seating
The Acura MDX is so versatile; it's like the LeBron James of SUVs. The MDX sets the bar for reliability, is extremely well-made, and has room for up to seven occupants. If you have a large family, or you are busy carpooling, the MDX's standard third row can seat two children comfortably. Throw in a host of impressive standard features like automatic xenon headlights, a power liftgate, a sunroof, leather upholstery and a rearview camera and you have a luxury SUV that can do it all. Acura's "Super-Handling" all-wheel drive sends power to the outside wheels during cornering providing a more vibrant and nimble driving experience. All-in-all, the Acura MDX is a tremendous value.
Best SUVs Over $55,000 (Top Luxury SUVs)
This last segment of SUVs is aimed at those who value performance and status. Whether it's the thrill of winding mountain roads, or the satisfaction of knowing that people will turn their heads to see you coming, these high-end SUVs are hard to beat.
Porsche Cayenne
The performance of a Porsche in SUV form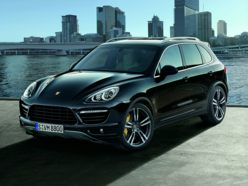 Imagine a Porsche Cayman coupe on steroids and you have the Porsche Cayenne SUV. The Cayenne has a feature that keeps track of racetrack lap times in case you were wondering where its priorities lie. You're not going to get three rows of seating and extreme off-roading capability with the recently redesigned Cayenne. You will get three different engine options that max-out at a whopping 500 hp and 516 pounds-feet of torque, which can reach 60 mph in a lightning-quick 4.6 seconds. German craftsmanship and design are on full display in the tightly configured cabin with a bold, yet sleek center console that features handles so you and your passenger can hold on during evasive maneuvers.
Mercedes-Benz GL-Class
Most luxurious large SUV around
With a cavernous interior and unsurpassed sophistication, the redesigned Mercedes-Benz GL-Class is essentially an ultra-luxury Suburban. Fit up to seven adults comfortably in three rows, or fold the seats down for 83 cubic feet of cargo volume. Since the GL-Class is made by Mercedes-Benz, leather upholstery, a rear seat DVD entertainment system, 11-speaker Harman Kardon audio system and several other premium features are available. A 350 Bluetec model utilizes a V6 engine and receives 17/21 mpg offering a more efficient offering option than the V8-powered 450 and 550 options.
Cadillac Escalade
Big-time style meets big-time roominess
We all know how the Escalade represents the 'bling-bling' segment of SUVs, but truth-be-told, it has plenty of substance to go with its style. That substance is defined by 109 cubic feet of cargo space, seating for seven and refinement you can only find in a Cadillac. If you're questioning the Escalade's dedication to extravagance, consider that the steering wheel is leather-wrapped, wood-accented, heated and power tilt adjustable with integrated controls for audio and cruise control. And that's just the steering wheel! Technology teams up with safety in the form of the Side Blind Zone Alert. Built into the exterior rearview mirrors, it alerts the driver to potential accidents before they occur.