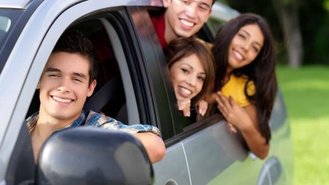 Buying an auto insurance policy can be confusing, confounding and expensive, with so many different types of coverage and commissioned insurance agents so quick to up-sell to the most expensive policy they can. Here we break down the five basic types of car insurance coverage, what is covered by each, and why you may need – or not need – them.
Get Free Car Insurance Quotes >>
1. Liability Insurance
Nearly all States require at least a minimum of liability insurance, which covers damage to the person or property of others in collisions or accidents where your car strikes another vehicle, a pedestrian or an object. Liability coverage is broken down into property liability coverage and bodily injury liability coverage, and you should make sure your premium carries enough of each kind that you will not have to end up paying out-of-pocket should a severe accident occur. In most cases, all drivers must carry liability coverage and it comes into play when you, the driver, are at fault in the accident.
Note that State minimum liability insurance may fall far short of the actual amount of damage that occurs from an accident, especially in the bodily injury category. Make sure to up your policy amount to a level that will keep you and your assets covered.
2. Collision Coverage
Collision coverage is not required by State laws, but chances are high that if you are financing or leasing your vehicle, the arrangement with creditors will require that you obtain it. Collision coverage covers your own vehicle in the event that you hit another vehicle, an object, or roll over. Regardless of your premium, the maximum amount collision coverage will pay out toward repairs is the determined value of your vehicle, minus any deductible. If that's not enough to pay for repairs, the car will be declared a "total loss", and you will be paid its value minus the deductible.
Collision coverage is usually bundled in a package with comprehensive coverage, and while it can be expensive, is worth the peace of mind for most drivers, especially of newer, higher-value cars.
3. Comprehensive Coverage
What about situations where your vehicle is damaged, but not from a collision, at-fault or otherwise? These situations are where comprehensive coverage comes in, and might include things like fire, vandalism, flood, hail or impact with an animal. Comprehensive coverage is usually required when leasing or financing a vehicle. Note that you should check your policy carefully, as certain types of natural disasters, such as hurricanes, may or may not be covered depending on the policy.
Get Free Car Insurance Quotes >>
4. Personal Injury Protection
Personal injury protection is sometimes called medical payments insurance, or "no fault insurance", as it covers the medical bills of you as the driver, and family members or those in your vehicle at the time, regardless of who is at fault. Personal injury protection coverage can be a lifesaver as it often serves as a stopgap when the other driver's bodily injury coverage is not enough to cover medical bills for those in your vehicle when you are not at fault. But like medical bills themselves, it is expensive.
Note that good personal injury protection coverage will also pay for loss of wages due to time off work from an injury, childcare and the like, and may pay for funeral expenses as well.
5. Uninsured/Underinsured Motorist
Even though car insurance coverage is the law, many drivers choose to ignore this and drive uninsured anyway. What happens if you are in a not-at-fault accident with a driver with no insurance? This is where uninsured motorist coverage comes in to pay for property damage, as well as medical bills for you or those in your vehicle.
This is usually lumped in with underinsured motorist coverage, which comes into play in a not-at-fault accident where the other driver carries insurance, but it is not sufficient to cover property damage or injuries to those in the vehicle. Though not required by law, uninsured/underinsured motorist coverage should be a part of every policy with so many uninsured drivers out there and State minimums often not enough to adequately cover all the bills resulting from an accident.