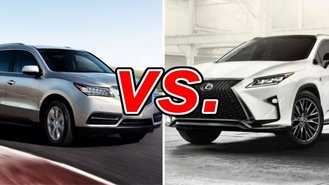 Much like the Camry-Accord rivalry of parent companies Toyota and Honda, Lexus and Acura do battle in the luxury crossover segment with the midsize RX 350 and MDX. Though both models come from upscale brands, their prestige is sometimes dampened by their relationships to the mainstream Highlander and Pilot, respectively.
The Acura MDX has had a tougher time overcoming the label of a Honda in an Armani suit, but has made huge strides in recent years. Are they enough to overtake the Lexus RX 350?
See a side-by-side comparison of the MDX & RX 350 »
What the RX 350 Gets Right
The newly redesigned RX 350 carries a lower base MSRP, but you still get all the expected equipment for a luxury vehicle, including a nine-speaker sound system and a power liftgate. Although it looks a bit futuristic, the RX is indeed a proper Lexus, delivering superb ride quality and a whisper-quiet cabin. The RX is strictly a five-seater, but rear legroom is unsurpassed in this class.
The RX's 3.5-liter V6 produces 295 horsepower and can be paired with all-wheel drive. At 28 mpg, highway efficiency is excellent for a luxury vehicle of this size.
What the MDX Gets Right
The MDX comes standard with a 290-horsepower 3.5-liter V6 engine, paired with a nine-speed automatic transmission. The base price also includes features like leather seating, driver memory, a sunroof, and a power tailgate. Needless to say, the MDX is equipped like a proper luxury vehicle from the start.
The MDX ranks as midsize and offers three rows of seating, but less interior room overall than the largest crossovers. That said, cargo space is undeniably generous at 91 cubic feet with the rear seats folded. The standard power-sliding second row is a welcome touch that allows third-row passengers to get in and out with dignity.
What Are Your Priorities?
The MDX certainly wins on seating capacity and cargo space, which is all some shoppers need to know. If you're more interested in style and luxury, you'll be happier with the RX 350.
Verdict: Lexus RX 350
The RX 350 is smooth and silky as only Lexus can manage, which is why we consider it the better choice for most luxury buyers.
Take a closer look at the Acura MDX >>