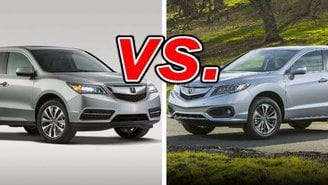 Acura delivers a ton of value when compared to other luxury brands, especially in the crossover segment. With the automaker offering both the midsize MDX and the compact RDX, Acura shoppers may find themselves on the fence between these two people haulers.
We looked at both the RDX and the MDX to find which delivers the most value. Continue reading to find out which we feel is the better buy.
See a side-by-side comparison of the MDX & RDX »
What the RDX Gets Right
The RDX starts from a much lower base price, and adding optional equipment tends to still keep the price below that of the MDX. The model still has plenty of the same premium standard features as its larger sibling: 18-inch wheels, a rearview camera, keyless entry, a power liftgate, LED headlights, heated front seats, a seven-speaker audio system and more.
With its smaller footprint, the RDX is better suited to handle tighter spaces and city traffic. Surprisingly, the RDX actually has more rear seat legroom. It also has more cargo room with the rear seats up and the seats down.
Additionally, despite giving up a little in power to the larger MDX, the RDX manages to have the same 0-to-60 sprint time as its larger sibling.
What the MDX Gets Right
The MDX, with its larger footprint, has enough room for seating up to seven passengers, making it perfect for larger families. Additionally, it offers this third row while still giving a respectable amount of cargo room.
With its higher price, the MDX is capable of squeezing in just a few extra features, like leather upholstery, five USB ports and tri-zone climate control.
Under its hood, the MDX has the power advantage with its 290-horsepower 3.5-liter V6 engine. Additionally, there is the Sport Hybrid model that boasts a 3-liter V6 and electric motors to crank out 325 horsepower
Who Needs the MDX?
The MDX is a great crossover, but its high price tag dooms it when comparing it with the RDX. That said, the MDX's seven seats are perfect for larger families that simply won't fit in the RDX.
Verdict: Acura RDX
With a significantly lower base price, more rear seat legroom and more cargo room, the RDX takes home a relatively easy win. Additionally, you can load the RDX up with all three of its upgrade packages – Technology, Advance and AcuraWatch Plus – and still be a few grand under the MDX.
Take a closer look at the Acura RDX »