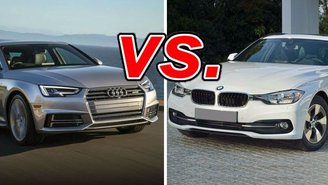 For decades, the BMW 3 Series has been a dominant force in the sport sedan market, inspiring many competitors who dare to take on the benchmark. From Audi, that competitor is the A4.
Both the BMW 328i and Audi A4 have turbocharged direct-injected four-cylinder engines that produce more than acceptable amounts of power. They also get over 30 mpg on the highway.
They're still very different cars, though. Can the recently redesigned A4 unseat the 328i?
See a side-by-side comparison of the A4 & 328 »
What the Audi A4 Gets Right
The A4's engine compartment plays host to a 2-liter engine that is lauded as one of the best four-cylinder engines in the world. It's known for smooth power delivery, a cool mix of horsepower and torque (252 and 273 pound-feet in this application), and respectable fuel economy at 28 mpg combined. The renowned quattro all-wheel drive system remains a major draw.
Buyers looking for even more fuel economy can opt for the 190-horsepower A4 Ultra, which gets 31 mpg combined.
Buyers choose between two transmissions: a six-speed manual or a seven-speed S tronic dual-clutch unit. Both transmissions are available with front- or all-wheel drive.
Finally, the A4 checks in with slightly more room in its cabin for occupants, making it the better choice for a growing family.
What the BMW 328i Gets Right
BMW emphasizes classic sports car ideals with the practicality of a sedan. The 328i comes standard with rear-wheel drive, giving it that old-school feel that the A4 just can't deliver.
BMW offers a six-speed manual or eight-speed automatic transmission that transfers power to the rear wheels.
Despite its power deficiency relative to the A4, the 328 remains the quicker of the two luxury sedans to 60 mph in their respective base formats. Change over to all-wheel drive and their acceleration numbers are the same.
Can the A4 Beat the 328i?
Audi's quattro adds the benefit of grip, but without it, the A4 is a front-driver that can't handle as well as the rear-drive BMW. However, the A4 offers greater efficiency, especially in Ultra guise.
Our Verdict: Audi A4
With its stunning new look, potent engine, and great fuel economy, there isn't much the A4 doesn't get right. Sure, traditionalists will want the rear-wheel drive of the 328i, but the A4 wins in all other departments, including price.
Take a closer look at the Audi A4 >>