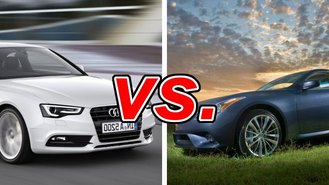 When the Audi A5 was first unveiled back in 2007, it aimed to give buyers a stylish two-door alternative to the A4 while also competing against similar entries from BMW and Mercedes-Benz in the hotly contested executive coupe segment.
See a side-by-side comparison of the A5 & G37 >>
The current A5 continues this mission with a serious refresh that brings new styling and performance hardware sure to please Audi loyalists. But are these changes enough to stand out against rivals such as the Infiniti G37 coupe?
What The Audi A5 Gets Right
A recent makeover gave the A5 more masculine lines while still maintaining a sense of elegance. The front fascia looks more purposeful with wider front air intakes, reworked shoulder lines, and reshaped headlights that further enhance the look. The rear fascia is less distinctive, but succeeds in unifying the rest of the car's styling elements.
Performance comes from a 2-liter turbocharged four-cylinder that's good for 211 horsepower and mated to a six-speed manual or eight-speed automatic transmission.
Why Choose The Infiniti G37 Over The Audi A5?
While the Infiniti G37's interior delivers its luxury in a more conservative way, its exterior lines are more dramatic than those on the Audi. Its 3.7-liter V6 produces a much more substantial 330 horsepower. It's also less expensive than the Audi, which can be pricey when equipped with options.
Our Verdict: Infiniti G37
The elegant Audi has plenty going for it -- but in this competition the G37 and its relationship to the Nissan 370Z lend it the performance edge at a relative bargain.
Take a closer look at the Audi A5 >>