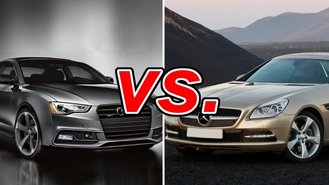 Audi's A5 luxury coupe and Cabriolet (convertible) have been part of the German automaker's lineup since 2008. Both rank as arguably the most handsome, lusciously-curved models in their class. The twin two-doors are close relatives of Audi's A4 sedans. Currently, all A5s contain a turbocharged 2-liter four-cylinder engine that produces 220 horsepower. Coupes can have a six-speed manual transmission or new eight-speed automatic, but Cabriolets are automatic-only.
Smaller than the plush Mercedes-Benz SL-Class, as well as more agile, the SLK has its own batch of amenities and capabilities, at a far lower price. Launched in 1998, the SLK-Class is a two-passenger roadster, with a retractable hardtop rather than a soft roof. For the 2016 model year, the previous SLK250 was transformed into the SLK300, powered by a turbocharged 2-liter four-cylinder. Soon, the SLK will be extinct, replaced by the SLC-Class.
See a side-by-side comparison of the A5 & SLK300 »
What the Audi A5 Gets Right
Despite its relatively elderly design, Audi's A5 looks nearly as clean and modern as it did initially. Elegant good looks, inside and out, tell only part of the A5 story. Nearly every aspect of these examples of high-level German engineering has been smoothly executed. Both body styles promise refined and relaxed cruising, with a sporty flavor. Four adults can fit easily into A5 coupes, but the convertible's back seat is meager, and trunk space is rather limited.
Few would be disappointed with the acceleration provided by the turbo-four engine. Each A5 also steers and handles with welcome competence. Standard quattro all-wheel drive is an extra benefit for owners in the snowbelt. Fuel economy ranks near average for premium coupes in this category, estimated at 22/32 city/highway with manual shift, or 21/30 mpg with automatic. A redesigned A5 is likely to emerge in 2017.
What the Mercedes-Benz SLK300 Gets Right
Despite its attractions, the SLK300 shows evidence of aging. Even so, it remains an appealing two-seater. Not only does an SLK look like a seriously authentic sports car, it provides the passion of a grasping-the-ground roadster. Both occupants can savor a refined cockpit, quiet and comfortable, well suited for lengthy journeys—though tall drivers might lack head space.
An SLK300 can be equipped with worthy options, including the Airscarf, which effectively keeps the wind in check. In the SLK300, a 2-liter turbocharged four-cylinder, develops 241 horsepower and 273 pound-feet of torque, working with a nine-speed automatic transmission. Fuel economy is acceptable, estimated at 25 mpg city/32 mpg highway.
Which of two stylish, sporty German-made two-doors takes the prize?
Not an easy question to answer, because the A5 coupe and convertible seem notably larger than the SLK300, which qualifies as a sports car (roadster).
Our Verdict: Audi A5
No disrespect to the delightful styling of the SLK, but these two-doors—despite dating from 2008—continue to stand apart in terms of elegant design.
Take a closer look at the Audi A5 »