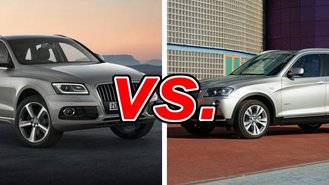 Small luxury crossovers have been rising in popularity as shoppers seek to make every dollar go farther -- especially when it comes to rising fuel costs. To raise fuel economy, Audi gave turbocharged four-cylinder power to its Q5 in 2011. Now that BMW has followed suit with the X3, can it beat Audi at its own game?
See a side-by-side comparison of the Q5 & X3 >>
What the BMW X3 does right
The design team for the BMW X3 has always faced an uphill battle: how to make a capable crossover that retains BMW's refined and sporty driving dynamics. Luckily, Munich's engineers have taken on that challenge and delivered a crossover that delivers excellent poise and control on the pavement while remaining composed on rougher surfaces. BMW's Driving Dynamics Control lets drivers choose between four driving modes that offer maximum fuel economy or a more spirited driving experience.
All X3s come equipped with BMW's xDrive all-wheel drive system. Under normal conditions, xDrive sends power only to the rear wheels, preserving that classic BMW feel. When needed, however, the system transfers up to 40 percent of the engine's power to the front wheels for extra traction. With a 2-liter turbocharged four-cylinder and eight-speed automatic transmission, an X3 returns a respectable 21 mpg city and 28 mpg highway.
What the Audi Q5 Does Right
The Audi Q5 may be relatively new on the small luxury crossover scene, but many of its components are tried and true pieces from parent VW's arsenal. The showpiece among these is the 2-liter turbocharged four-cylinder that sees duty in everything from VW's GTI to the Audi A4. It puts out a healthy 211 horsepower, funneled through an eight-speed automatic to Audi's Quattro all-wheel drive system. This combo nets EPA numbers of 20 mpg city and 27 mpg highway.
The interior is typically Audi, with aluminum trim, wood and leather. The cabin's design is pleasant, with superior fit and finish. The Q5 can easily fit four adults and 29 cubic feet of cargo with the seats up.
Is the Q5 Still the Better Choice?
Both crossovers are excellent choices, and are fairly evenly matched in dimensions and fuel economy. The Audi may give up 29 horsepower to the X3, but thanks to its eight-speed automatic, it has no trouble making the most of its output. The X3 is tailored more to the sporty driver, while the Q5 has a more comfortable, middle-of the road feel to it. The X3 also has less cargo space, and costs a few thousand dollars more than the Q5.
Our Choice: Audi Q5
The X3 may have the BMW driving dynamics down pat, but we think that the Audi Q5 is the better all-rounder.
Take a closer look at the Audi Q5 >>