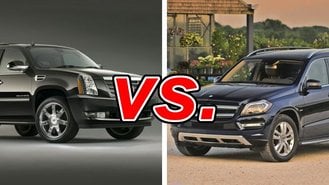 The Cadillac Escalade is a cultural icon, made popular by celebrities and starring roles in music videos of the decade just past. It's an undeniable marker of wealth and status, made all the more desirable by 2015's striking redesign. But in the field of luxury cars, the three-pointed star on a Mercedes-Benz is even more imposing than a Cadillac crest.
Is the Mercedes-Benz's offering in the big SUV segment -- the GL450 -- better than the Escalade?
See a side-by-side comparison of the Escalade & GL450 »
What the Cadillac Escalade Gets Right
An Escalade has the bold styling to create a presence. Its size also creates usable space for five passengers in decent comfort. And the standard 6.2-liter V8 engine, now with 420 horsepower, can propel this massive machine with authority -- useful if you're trying to escape the paparazzi.
The revamped interior features yards of top-notch materials and even more conveniences than in years past. High-end features like Bose surround-sound and premium leather seats come at a reasonable price compared to other luxury SUVs.
What the Mercedes-Benz GL450 Gets Right
The GL450 doesn't have quite so much space. It's big, but not as big as the Escalade. And it costs a good bit more, without options like premium audio and leather that would be standard on the Cadillac. But the GL450 does have good space for five -- and two people would be okay in the third-row seat, unlike in the Escalade.
The Mercedes-Benz is also much more maneuverable in traffic than the Escalade, thanks to a car-like structure and more refined dynamics. Finally, its V8 is much more refined and economical than the Escalade's.
Which is Better?
The Escalade may have more presence, but the GL450 is the more useable luxury SUV. The third-row seats in the Cadillac are flat and mounted, essentially, on the floor. Also, they must be removed if you want any useful space to haul cargo, whereas they're power operated and lie flat in the Mercedes-Benz. The interior of the GL450 is also much better put together.
Our Verdict: Mercedes-Benz GL450
These days, even Mercedes-Benz does brash and bold -- while it doesn't quite beat an Escalade for status, the GL450 is a better bet in the real world.
Take a closer look at the Cadillac Escalade »