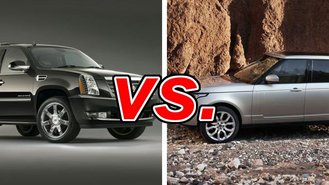 Fully redesigned in 2015, Cadillac's signature SUV continues to offer everything that made it a star in the first place: imposing presence, abundant power and heavy glitz throughout. Escalade buyers don't just want a fancy hauler -- they want to make a statement.
See a side-by-side comparison of the Escalade & Range Rover »
Although it's altogether more subdued, the Range Rover doesn't pull any punches when it comes to luxury or off-road ability. Fortified by an array of updates in recent years, the original prestige SUV is at the top of its game as Land Rover's flagship.
Which impresses us more, the Escalade's rockstar mojo or the Range Rover's safari-ready qualities?
Escalade Advantages
The Cadillac is big enough to make regular cars look like toys, and flashy enough to make almost everything else look plain. Inside, the supple leather seating for eight and expansive headroom give the feeling of riding in the first-class cabin of a jumbo jet. The Escalade also offers plenty of entertainment and comfort options to keep passengers content on long trips.
The standard 6.2-liter V8 gets a boost to 420 horsepower, enough to propel the Escalade from zero to 60 mph in 6 seconds flat. There's plenty of thrust for towing up to 8,300 pounds. The active Magnetic Ride Control suspension does a fine job of isolating passengers from rough patches in the pavement.
You don't have to kick everyone out in order to carry a serious load. The Escalade offers 52 cubic feet of cargo space with the second row in place. Fold it down and you're looking at a generous 95 cubic feet.
Range Rover Virtues
The Range Rover wears a lightweight all-aluminum body for optimal efficiency and performance. Inside, tasteful electronic displays bring the five-person interior into the present without spoiling the classic British ambiance of fine wood and leather.
The 375-horsepower 5-liter V8 is paired with an eight-speed transmission, a setup that takes the Range Rover to 60 mph in 6.5 seconds and returns 20 mpg on the highway. All models feature full-time four-wheel drive with low range and Land Rover's Terrain Response system, which optimizes the SUV's traction for five driver-selected conditions. The Range Rover can pull up to 7,700 pounds and handle 72 cubic feet of cargo.
Clearly Different
When it comes to traditional luxury measures -- room, comfort, bling -- the Escalade reigns. When it comes to off-road ability and interior craftsmanship, the Range Rover runs away with it. In many ways, they represent two extremes within the same class of vehicle.
Our Verdict: Range Rover
The Range Rover's signature attributes are so strong, you won't wish for more space.
Take a closer look at the Cadillac Escalade »