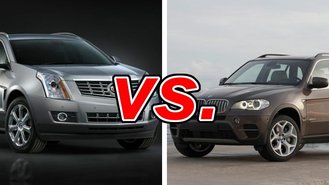 While no one was looking, the SRX became Cadillac's bestselling model, which should reveal how luxury-car buyers feel about crossovers. For its part, the Cadillac SRX fully delivers the polish and features they expect.
See a side-by-side comparison of the SRX & X5 >>
The BMW X5 competes for these same buyers in the fine Bavarian tradition of no-nonsense luxury and faultless performance.
Both models hover at the top of this class, but which intrigues us more?
Where the SRX Excels
Although the SRX shares its platform with lesser GM models, you would never know it without an engineering degree. The exterior has recently been tweaked to exude equal parts sport and beauty. The interior is loaded with high-tech conveniences and fine materials that seem at once indulgent and durable.
The sole engine is a 3.6-liter V6 with 308 horsepower that propels the SRX from zero to 60 mph in 7.1 seconds. Acceleration would be better if the Cadillac weren't so heavy, but there's no denying it has a vault-like feel usually associated with full-size luxury cruisers. Ride and handling are incredibly well balanced; each is as pleasing as it can be without interfering with the other. That seems like the right approach for a crossover bearing the Cadillac name.
Where the X5 Excels
Technically, the midsize BMW X5 is one class up from the SRX, although the actual size difference is modest. However, there is enough extra space in the BMW for a pair of optional third-row seats, and you get 14 more cubic feet of cargo space.
The standard turbocharged 3-liter V6 makes good use of its 300 horsepower, taking the X5 from zero to 60 mph in 6.4 seconds. The available diesel version isn't quite so fast, but delivers a few more miles per gallon. On the other end of the spectrum, there's a twin-turbo 4.4-liter V8 with 400 horsepower that puts the X5 in serious performance territory. All models carry BMW's sophisticated xDrive all-wheel drive system.
What's the Big Difference?
Because it's a BMW, the X5 is more concerned with handling than riding comfort -- as are the majority of its buyers. That's not to say the Cadillac is cushy; in fact, it's a remarkably well-rounded performer.
To say it all comes down to a choice between luxury or performance is an oversimplification that sells both cars short, but you get the idea.
Our Verdict: BMW X5
Swift and accommodating, the BMW embodies all the best attributes of this class.
Take a closer look at the Cadillac SRX >>