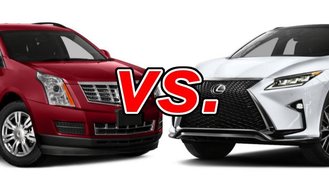 Sales volume doesn't necessarily equate with greatness in the automotive world, but in this case it just might. The Lexus RX 350 is the best-selling luxury crossover on the market -- and has been for some time. Over at Cadillac, the SRX outsells all of its stablemates, including the newer and cheaper ATS sedan.
See a side-by-side comparison of the SRX & RX 350 »
Both of these models are doing something very right. To a great many buyers, they deliver the whole package: luxury, utility, balanced performance and, yes, value.
Since buyers keep lining up, we decided to see what all the fuss is about.
The Cadillac of Crossovers
Everything about the SRX is substantial -- from its luxury to its tech features, stance and weight. It will remind you of the days when driving a "loaded" car really meant something. We're not talking about tacked-on luxury, but genuine high-grade materials and advanced technology welded together beautifully. Think of it as your personal Fabergé egg on wheels.
The sole engine is a 3.6-liter V6 with 308 horsepower that propels the SRX from zero to 60 mph in 7.1 seconds. Acceleration would be better if the Cadillac weren't so heavy, but there's no denying it has a vault-like feel usually associated with full-size luxury cruisers. Ride and handling are incredibly well balanced; each is as pleasing as it can be without interfering with the other. That seems like the right approach for a crossover bearing the Cadillac name.
Lexus Luxury
The pioneer luxury crossover, the RX 350 adheres to a proven formula: plush furnishing, quiet operation, and a pampering ride. For 2016, this pampering is enhanced by an all-new look inside and out.
The 3.5-liter V6 makes 295 horsepower, enough for the RX to run even with the heavier Cadillac. The lighter weight also results in a few more miles per gallon in city and highway driving. What's more, the available F Sport model adds the extra touch of sportiness the SRX simply cannot match.
Ride comfort has always been a priority in the RX, and is perhaps its strongest selling point. As soft as the suspension is, the Lexus never feels floaty or disconnected, a credit to the engineering department. Most buyers know they aren't getting a performance crossover, which isn't what they want anyway.
The Best of Both
The Cadillac scores at the top of this class in sheer opulence and technology, and its cargo capacity is much greater than the RX 350's. Not to be outdone, the Lexus offers silky smoothness and isolation from external elements like no other competing crossover.
Our Verdict: Lexus RX 350
Lexus understands exactly what the market wants and delivers it in the RX 350.
Take a closer look at the Cadillac SRX »