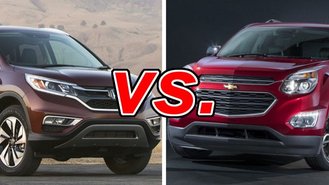 Spend a few minutes in the Chevrolet Equinox and Honda CR-V and you'll know that these aren't niche players, but mass-appeal crossovers aimed squarely at the heart of the market. While they're technically compact, both offer enough room and riding comfort to please all but the most rambunctious families.
See a side-by-side comparison of the Equinox and CR-V >>
So what's the difference? We drill down to find out.
Equinox Virtues
The Equinox is styled along the lines of larger models in the Chevrolet family, but its substantial appearance is more than just clever design. It's large for this class and weighs more than most competitors. The result is a smooth, hushed ride and solid feel that will remind you of more expensive vehicles, especially when it's equipped with the newly available 301-horsepower 3.6-liter V6. Even so, the base four-cylinder features active noise cancellation, so all examples cruise quietly.
The Chevy's wide stance produces commendable hip and shoulder room for all passengers. The rear seat can slide forward to increase cargo space or back to provide more legroom. That feature alone could make buyers think twice about the need for a larger crossover.
CR-V Virtues
The current CR-V is thoroughly up-to-date in design and technology. Its strong suit remains cargo space, up to 71 cubic feet of it, in addition to numerous storage compartments for small items. Instead of a sliding rear seat, the Honda offers spring-loaded seatbacks that fold down automatically when released via a lever. It's a simple but effective system that doesn't require contortions or a motor.
The CR-V's refined 2.4-liter four-cylinder delivers 185 horsepower and, when mated to the new CVT, returns 29 mpg in combined city and highway driving.
What's Important?
When cargo space is a priority, the CR-V shines above just about everything in this class. And you still get strong efficiency to boot. The Equinox is a plush cruiser that mimics a larger vehicle, especially with the potent V6.
Our Verdict: Honda CR-V
The CR-V's easy versatility and clever packaging earn it the nod in this matchup.
Take a closer look at the Chevrolet Equinox >>