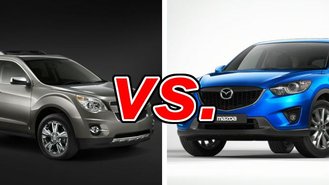 The Chevrolet Equinox and the Mazda CX-5 are both relative newcomers in the compact SUV segment. The Equinox debuted in 2005 and went into its second generation in 2010, while the CX-5 is just entering its second year of existence.
See a side-by-side comparison of the Equinox & CX-5 >>
Sales figures for Mazda's smaller SUV continue to climb as the CX-5 finds its audience, yet those sales still don't come close to the numbers racked up by the Equinox. Does the CX-5 just need a little more time or is the Equinox a far superior car?
What the Chevrolet Equinox Gets Right
Chevrolet equips the Equinox with more powerful engines than many rivals in this class, including the CX-5. In addition to the standard 2.4-liter four-cylinder engine there is also an available 3.5-liter V-6 for the Equinox. The latter engine not only significantly raises the horsepower output from 182 to 301, it's also FlexFuel E85 capable.
The Equinox's interior is spacious and comfortable with a sliding and reclining rear seat. The well-designed cabin offers an optional two-tone color scheme and a quiet ride.
What the Mazda CX-5 Gets Right
The CX-5 is one of the first beneficiaries of Mazda's oddly named SkyActiv technology that aims for improved fuel economy through more efficient engines and lightweight vehicle structure. The results are estimates in the range of 26 to 29 mpg for combined driving depending on engine, transmission and driveline configuration.
The CX-5 also offers more cargo space -- up to a maximum of 65 cubic feet -- and comparable rear-seat leg room in a slightly shorter overall length when compared to the Equinox. The rear seat also drops as the seat backs are folded down to create a nearly flat cargo area.
Do More Sales Equal a Better Car?
Not necessarily. Although the Equinox offers more available power than the CX-5, that power comes at the expense of significantly reduced fuel economy, especially with the V-6.
Extra bonus points go to the CX-5 for its nearly new looks and excellent handling characteristics, while the Equinox has aged since its last update in 2010.
Our Verdict: Mazda CX-5
The excellent fuel economy and fresh appeal of the CX-5 win our vote.
Take a closer look at the Chevrolet Equinox >>