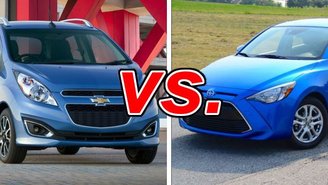 Way down at the bottom of the market are dedicated economy sedans like the Chevrolet Spark and Scion iA. As expected, they're great on gas and a cinch to spark, although you'll have to temper your expectations when it comes to things like comfort and performance.
Both models have what it to takes to be a perfectly agreeable commuter for the right driver. But which one works better for us?
See a side-by-side comparison of the Spark & iA »
What the iA Delivers
Scion has given the iA some refined ride/handling qualities, starting with good steering feel. The suspension is sufficiently absorbent, yielding a generally good ride. Most road imperfections are handled without drama. Brakes do their job well. With only 106 horsepower stemming from the 1.5-liter four-cylinder engine, takeoffs are sluggish and somewhat noisy. Performance picks up at higher speeds, although passing may require some practice.
Fuel economy is estimated at 31/41 mpg (city/highway) with the easy-to-shift manual gearbox, while the six-speed automatic rates an even thriftier 33/42 mpg. The iA isn't especially spacious. The backseat is rather cramped, though getting there isn't as tough as it looks. Headroom is ample in front, where seats provide good support.
What the Spark Delivers
The Spark's 1.4-liter four-cylinder engine produces 98 horsepower and comes with a five-speed manual or continuously variable automatic transmission (CVT). The Spark delivers 34 mpg in combined driving with the manual and 35 mpg with the optional CVT. Acceleration is leisurely, but we did find the Spark more engaging to drive than most vehicles in this class.
Interior fit and finish are cut above what we expected for the price. Everything feels screwed together well, and Chevy's high-tech MyLink infotainment interface comes standard.
How Do They Measure Up?
Both cars get the economy part right in terms of price and operation. The iA offers more interior room, while the Spark feels a tad sportier and much more refined inside.
Our Verdict: Chevrolet Spark
The Spark may be small, but feels unusually sophisticated for an economy car.
Take a closer look at the Chevrolet Spark »