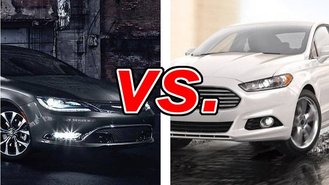 Selling midsize sedans is a tough business. With so much profit to be had in this high-volume segment, competition is fierce, leaving automakers with little room for error.
Cars like the Chrysler 200 and Ford Fusion have to be very good at what they do in order to find buyers. Both can hold their own and then some, but which is the stronger contender?
See a side-by-side comparison of the 200 & Fusion »
What's to Like About the 200?
The 200 was fully redesigned in 2015 with dramatically different styling and never-before mechanical features like a nine-speed transmission and available all-wheel drive. The 200 also boasts a classy chrome-trimmed interior that ranks at the high end of this class. It achieves a certain premium feel, even in base trim.
All 200 models start out with a 2.4-liter four-cylinder that produces 184 horsepower. The optional 3.6-liter V6 lays down a class-leading 295 horsepower. A nine-speed automatic transmission serves both engines. The V6 features a Sport mode for snappier transmission response and tighter steering, and can be paired with all-wheel drive.
What's to Like About the Fusion?
It's safe to say the Fusion is the style leader in this rather conservative class. The unique looks seem appropriate for a sedan with the Ford's spirited driving dynamics and suite of convenience and safety technology.
On the road, the Fusion always manages to be quiet and composed, imparting the feel of an entry-level luxury car. Wind and engine noise have been all but engineered out at highway speeds. The optional 2-liter turbocharged four-cylinder provides performance similar to a V6, but with vastly superior fuel economy. The line-topping Titanium model, powered exclusively by the 2-liter, offers all-wheel drive in addition to the expected luxury trappings.
What It All Means
The 200 is easy to appreciate for its upscale demeanor and energetic V6. While not a breakthrough product, it represents Chrysler well in this segment.
No matter how it's equipped, the Fusion scores near the top of the midsize class in efficiency, handling, and overall refinement. The availability of all-wheel drive makes it an obvious choice for buyers who need all-weather capability.
Our Verdict: Ford Fusion
The Fusion gets it right on all levels, making it a top pick among family cars.
Take a closer look at the Chrysler 200 >>