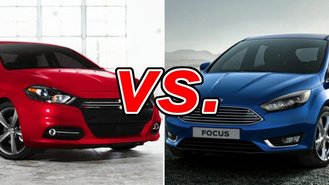 It's been a while since Dodge fielded a compact, fuel-efficient sedan, so the Dart probably isn't at the top of anyone's shopping list. But we suspect that will change as the public gets more opportunity to sample the sharp little cruiser.
To help in that regard, we put it up against the Ford Focus, a top-tier competitor with strong credentials. How well does the Dart hold up under pressure from a class leader?
See a side-by-side comparison of the Dart & Focus >>
Why We Like the Dart
Though officially compact, the Dart is longer and wider than nearly all of its competitors. Buyers stepping down from a midsize car will notice little difference from behind the wheel. The extra mass pays off in the form of exceptional rear-seat comfort and a substantial feel when cruising down the road. The lively interior is easily one of the nicest in this class, with a look and feel that's indistinguishable from many higher-priced sedans.
The Dart's 2-liter four-cylinder produces 160 horsepower and returns 29 mpg in combined driving with the standard six-speed manual. The optional 1.4-liter turbo delivers the same horsepower, but substantially more torque for swifter pickup, not to mention a few more mpg. GT models get a 2.4-liter four-cylinder with 184 horsepower, which puts it in contention with other sporty compacts.
Why We Like the Focus
A quick look around the Focus reveals that it's a cut above what buyers are used to in an economy car. Its exterior styling is sharp and expressive, and the interior surrounds you with high-quality materials. The dashboard layout, in particular, conveys a reassuring level of quality and refinement.
The Ford's 2-liter four-cylinder is good for 160 horsepower, yet it still delivers up to 40 mpg on the highway. Crisp handling and a well-balanced suspension contribute to an overall feeling of satisfaction in daily driving. The turbocharged ST model provides a massive boost to 252 horsepower for eye-opening performance. The lineup also includes an all-electric model for the eco-minded.
The Best of Both
Inside and out, the Dart does a fine job of hiding its economy-car roots. It's a classic example of a lot of car for the money. The Focus is undeniably stylish and refined, with the perfect balance of power and efficiency for this class.
Our Verdict: Ford Focus
The Dart will certainly increase traffic in Dodge showrooms, but it's not a clear game-changer for American compacts. That honor belongs to the Focus.
Take a closer look at the Dodge Dart >>