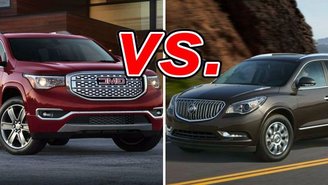 Rising gas prices, raised eco-consciousness, and a struggling economy have taken their toll on the large SUV market. Families who truly need space and utility have turned to crossover like the GMC Acadia and Buick Enclave.
Both are high-end crossovers that were once built on the same platform. A recent redesign moved the Acadia to a smaller platform. Is this redesign enough to overcome the once-superior Enclave?
See a side-by-side comparison of the Acadia & Enclave »
What the GMC Acadia Does Well
The first thing you'll notice about the restyled Acadia is its size. Its body is now significantly smaller than the Enclave's, making it more maneuverable in tight spaces and lighter by some 700 pounds. Despite being shorter, it can still seat eight passengers.
Inside, buyers will enjoy a redesigned cabin that features more modern touches and additional upscale materials, particularly in the Denali trim. Occupants will also feel safer than ever with the seven newly available safety features, including automatic braking and a surround-vision camera system.
Thanks to its massive weight loss, GMC was able to add a thrifty 2.5-liter four-cylinder engine to the Acadia's lineup. With this engine, the GMC easily bests the Buick with 26 mpg highway and 21 mpg city. Those looking for more power can opt for a reworked 3.6-liter V6 that produces 310 horsepower and delivers up to 25 mpg highway.
What the Buick Enclave Does Well
The Enclave's stylish exterior is more compact than traditional SUV rivals, but it's far larger than the new Acadia. This now puts the Enclave well ahead of the Acadia in terms of cabin room, particularly cargo room behind the third-row seats.
The comfortable interior has plenty of room for all passengers. The Buick IntelliLink interface is useful, though hampered by slow response times.
The Enclave's older version of the 3.6-liter V6 produces 288 horsepower, making it more potent than the Acadia's base four-cylinder. It does, however, fall short of the GMC's optional V6.
How Do They Compare?
At one point, these two models shared a platform, but that is not the case today. The decision between the two depends on what you value most. Are you willing to give up some space for fuel economy, or is cargo and people hauling at the top of your list?
Our Verdict: GMC Acadia
The Enclave is great for buyers who must have max cargo-hauling capabilities. However, the new GMC Acadia has done enough to unseat the Enclave, thanks to its thriftier powertrains, more powerful V6 engine, new safety features, and fully loaded Denali trim.
Take a closer look at the GMC Acadia >>
Take a closer look at the Buick Enclave >>