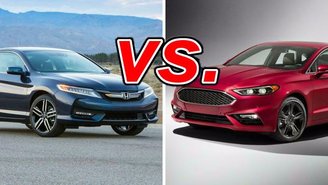 Although they look friendly enough, the Honda Accord and Ford Fusion are two of the toughest family sedans on the block. In terms of market appeal and sheer competitiveness, neither gives up an inch, as sales figures confirm.
Both models received complete redos for 2013 and yearly updates since then. We have plenty of praise for both, but only one will come out on top.
See a side-by-side comparison of the Accord & Fusion »
Where the Accord Shines
The current Accord has always impressed us with its lean, athletic body and spirited driving dynamics. The Accord's crisp handling and medium-firm suspension make it feel smaller than it really is.
Despite its emphasis on performance, the Accord is brimming with family-car virtues. You get ample rear legroom, a generous trunk, and fine efficiency. The standard 185-horsepower four-cylinder engine delivers 31 mpg in combined city and highway driving.
Where the Fusion Shines
The Fusion enjoys bold styling that only a class leader can get away with in this conservative segment. The unique look seems appropriate for a car that is indeed a standout by virtue of its advanced technology and spirited performance.
On the road, the Ford always manages to be quiet and composed, imparting the feel of an entry-level luxury car. There are no V6 engines anymore, but the available 2-liter turbo provides similar performance while using less fuel, and can be paired with all-wheel drive.
Can There Be A Winner?
When two models do so much so well, any staunch critic is on thin ice. Both the Accord and Fusion deserve the hefty market shares they get. The Accord also deserves its decades-old reputation for providing long-lasting value and a rewarding driving experience.
By comparison, the Fusion is a newcomer with more to prove, and does so with each year on the market. It's no longer just a highly competitive sedan, but a benchmark in its own right. The Fusion has been a game-changer for Ford, on par with the original Taurus and Mustang.
Our Verdict: Honda Accord
Still a pleasure to drive after all these years, the evergreen Accord gets the title in this highly contested bout.
Take a closer look at the Honda Accord >>