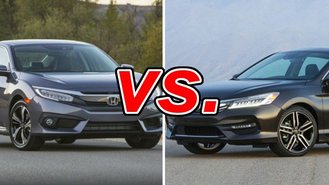 The Honda Accord and Civic have been staples in the U.S. market since the mid-1970s, and neither is showing signs of slowing down. For the 2016 model year, both get brand-new looks. The Civic takes its restyling a bit further with enhanced powertrains and three available body styles. Can the compact Civic use this redesign to overcome its big brother?
See a side-by-side comparison of the Civic & Accord »
Going Head-to-Head
The Civic immediately gets the advantage by way of its number of body choices. Immediately, the 2016 Civic will come as a sedan, but coupe and hatchback models are both on their way. The Civic also gains two new engines in a 158-horsepower 2-liter four-cylinder and a 174-horse 1.5-liter turbocharged four-pot. The restyled Civic sedan's body is also larger than in 2015, allowing it to come within 0.7 cubic feet of the Accord Sedan's trunk space and get within 1.1 inches of rear seat legroom of the Accord sedan.
The Accord checks in with a standard 2.4-liter four-cylinder engine that produces 185 horsepower and 181 pound-feet of torque. The Accord's 3.5-liter V6 is no match for any of the Civic's standard engines, but it will be rivaled by the upcoming performance-oriented Si and Type R models. What's more, the Civic gets up to 42 mph highway, easily besting the Accord's top rating of 35 mpg.
Where the Accord really pulls away is in standard features, as it comes standard with top-line items like dual-zone automatic climate control, an illuminated vanity mirror, two power outlets, an overhead console, and 16-inch alloy wheels. On top of all of the additional features, the Accord is far roomier than the Civic, with 0.5 inches more front legroom, 2.3 inches more rear legroom, and an extra 3.5 cubic feet of cargo space.
Our Verdict: Honda Civic
If you absolutely need the small amount of extra space the Accord offers, than it is a fine choice, but the new Civic is a better overall value. It is nearly as large on the inside as the Accord, but 10 inches shorter in length and far lighter. Plus, its new turbocharged engine makes the non-Si models quicker than ever before. Add to that the massive gap in fuel economy between the two, and you can see why the Civic is our pick.
Take a closer look at the Honda Civic »