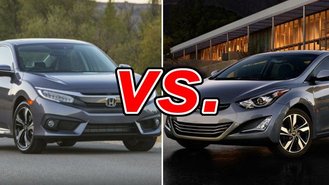 Back in the 1990s, no one compared a Honda to a Hyundai without laughing. While the Korean upstart was busy fending off questions about dubious quality, its Japanese rival was enjoying an enviable reputation for impeccable reliability. In recent years, though, the Hyundai and its Elantra have clawed their way into serious competition with the likes of Honda.
That it's now mentioned in the same breath as the Civic is a huge step for the Elantra, but the question remains: has it improved enough to supplant the Civic, or is it still a notch below Honda's compact champion?
See a side-by-side comparison of the Civic and Elantra »
What the Civic Gets Right
The 10th generation Civic is here, and it features a redesign that pushes the model into a new area of style. Its body features a nose styled after the Accord and a fastback design that makes even the sedan look sporty. Also part of the 10th generation changes is the addition of a useful hatchback model. The interior is also all new, and it uses more soft-touch materials than before, giving it a more upscale look and feel.
The redesigned Civic also gets a much-needed upgrade in the powertrain department. Its standard engine is a 2-liter that cranks out 158 horsepower, while its optional turbocharged 1.5-liter pounds out 174 horsepower, making it the most powerful non-Si Civic ever.
See more sedan comparisons here »
What the Elantra Gets Right
The Elantra earns instant points with a price that's significantly cheaper than the Civic's and the new Value Edition bundle that the automaker added for 2016. What's more, it matches the Civic with a sedan, coupe, and hatchback model. Hyundai's compact also has a warranty that easily trumps that of the Civic.
Is the Elantra There Yet?
The Elantra has come a long way, as has the entire Hyundai lineup. The engines are more powerful and efficient than ever, the Elantra's styling is second to none in its class, and the base amenities are plentiful. However, the Elantra still has a little work to do before it catches the Civic.
Our Verdict: Honda Civic
It's a close battle – likely closer than it has ever been between these two. The Elantra is sharp, stylish, powerful and well-equipped, but so is the Civic. The Civic's new look and expanded lineup of engines were key pieces in its victory.
Take a closer look at the Honda Civic »