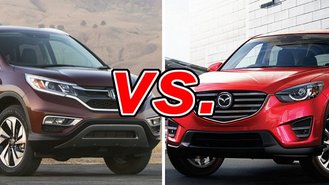 One of the first crossovers of any size, the compact Honda CR-V has been courting families with its space and efficiency since 1997. Today's market is loaded with like-minded vehicles, but the CR-V remains as popular as ever with consumers.
See a side-by-side comparison of the CR-V & CX-5 »
After years of peddling rebadged Ford products, Mazda offers an in-house compact crossover this year, the all-new CX-5. It's pure Mazda: nimble, athletic and efficient.
How does this newcomer compare to the veteran Honda?
CR-V Virtues
Now in its second season in current form, the CR-V is thoroughly up-to-date in design and technology. Its strong suit remains cargo space, up to 71 cubic feet of it, in addition to numerous storage compartments for small items. Instead of a sliding rear seat, the Honda offers spring-loaded seatbacks that fold down automatically when released via a lever. It's a simple but effective system that doesn't require contorsions or a motor.
The 2.4-liter four-cylinder delivers 185 horsepower and 29 mpg in combined city and highway driving, or 28 with all-wheel drive. Most drivers will find the CR-V plenty smooth and refined for their tastes, and highly maneuverable in traffic and parking lots.
CX-5 Virtues
Drivers will find the Mazda to be more athletic than its rivals, with confident braking and smile-inducing responsiveness on twisty roads. Fuel economy with the 2-liter four-cylinder is top notch: 29 mpg in combined driving. Horsepower is nothing special at 155, but acceleration is on par with the CR-V. Cargo space is competitive at 65 cubic-feet, and the load floor is nearly flat.
Since it's a new model, the CX-5 lacks nothing in terms of modern conveniences and technology. The interior design is mature and highly functional, devoid of any questionable ornamentation.
What Matters More?
Shoppers will be surprised by how much content is available in these modestly priced crossovers. Considering their impressive fuel economy, we're not put off by the lack of a V6 or turbo in either.
As usual with strong competitors, the choice comes down to personal priorities. The Honda offers more space and refinement, whereas the Mazda excels in fuel economy and driving dynamics.
Over Verdict: Honda CR-V
When it comes to doing what mainstream crossovers do best, the Honda remains the benchmark of its class.
Take a closer look at the Honda CR-V »