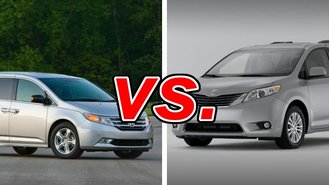 Despite roots based in the typical bland styling of almost all minivans in the early 1990s, neither the Toyota Sienna nor Honda Odyssey has retained any of the design cues of their first-generation models. Seeing an opportunity in a growing market segment, their manufacturers have fashioned more stylish models with North American customers in mind.
See a side-by-side comparison of the Odyssey & Sienna >>
Both minivans are built in the United States and both appeal to growing families. But which does so more convincingly?
What the Toyota Sienna gets right
By discontinuing the four-cylinder engine, Toyota no longer offers an under-powered Sienna. The automaker also gains some competitive edge with an all-wheel drive option -- something none of its competitors provide.
Five trim levels appeal to a variety of budgets, and even lower-spec models feature a long list of technology-enhanced, family-friendly features. Second-row seats can be outfitted with a recliner option.
What the Honda Odyssey gets right
A lowered roof line and a wider body enhance the aggressive stance of the current Honda Odyssey. The new design provides additional cargo and passenger room, and even lessens the cost of ownership with greater fuel economy.
With decidedly Honda-esque design cues borrowed from the Accord, the Odyssey is also available in five trim levels. A backup camera is standard equipment on all trim levels.
Getting the most out of stylish functionality
It is apparent that the design staffs of Honda and Toyota are paying much closer attention to their minivans -- both are nice-looking vehicles. Technology-enhanced features and entertainment options are abundant on both models. When traveling with children, both of these models have the equipment to keep the kids entertained. With such family friendliness, is one better than the other?
Our Verdict: Honda Odyssey
Honda wins by paying even closer to attention to the Odyssey's outward appearance. The new tapered body design is dynamic and distinctive, plus it might be the first minivan that incorporates a better outward perspective for third-row passengers.
Take a closer look at the Honda Odyssey >>