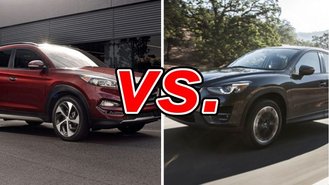 Small crossovers aren't generally known for their performance, but Hyundai and Mazda have injected some fun into the genre with their respective offerings, the Tucson and CX-5. Along with efficiency and a reasonable price, buyers get spirited road manners that are easy to appreciate in everyday driving.
See a side-by-side comparison of the Tucson & CX-5 »
The Case for Tucson
The recently redesigned model manages to look downright sexy for a crossover. It's sculpted along the lines of sporty hatchback that happens to ride high and have some extra cargo room. Responsive steering and a sport-tuned suspension provide an unexpected level of driver involvement and satisfaction. The Tucson feels tight and nimble through all phases operation, so much so that buyers stepping down from larger SUVs might need time to get used to the Hyundai's responsiveness in daily driving.
Power comes from a pair of four-cylinder engines: a base 2-liter and available 1.6-liter turbo making 164 and 175 horsepower respectively. The 2-liter engine is limited to entry-level SE trim and comes with a six-speed auto transmission. The 1.6-liter comes with a new dual-clutch transmission only.
The Case for CX-5
Drivers will find the refreshed Mazda to be more athletic than most rivals, with confident braking and smile-inducing responsiveness on twisty roads. Fuel economy with the 155-horsepower 2-liter four-cylinder is top notch: 35 mpg on the highway. Even the 184-horsepower 2.5-liter engine delivers up to 33 mpg on the highway, giving it an edge against its competitors. The CX-5 offers up to 65 cubic-feet are cargo space, about five more than the Hyundai.
Since it's a new model, the CX-5 lacks nothing in terms of modern conveniences and technology. The interior design is mature and highly functional, devoid of any questionable ornamentation.
What Tips the Scale?
Both models offer greater agility and tighter handling than the average small crossover, albeit at the expensive of cargo space. The Tucson has the advantage in looks and refinement, while the CX-5 can carry more while using less gas.
Our Verdict: Mazda CX-5
Stellar fuel economy a tad more space, and a more powerful range-topping engine put the Mazda on top.
Take a closer look at the Hyundai Tucson »