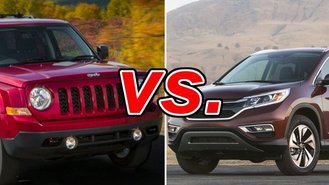 Shop for a small crossover and you'll naturally gravitate towards the Honda CR-V. It's long been one of the best-sellers in the segment because of its great practicality, good value and history of reliability.
See a side-by-side comparison of the Patriot & CR-V »
You might be persuaded into thinking Jeep, the inventor of the modern SUV, has a credible alternative with the Patriot. After all, it looks tougher, costs less and advertises real off-road capability. But is a Patriot the 4x4 bargain it claims to be?
What the Honda CR-V Gets Right
Honda's recipe for the CR-V hasn't changed much over the years and it's a benchmark in the class for good reason. The 2.4-liter four-cylinder doesn't have an excess of power, but it's very efficient. Even the base model comes with common-sense features like a backup camera and iPod connectivity, and prices stay realistic throughout the range.
The interior is positively cavernous. It's not luxuriously appointed, but it's loaded with useful storage areas and there's a flat floor for loading and passengers in the rear. What's more, everything feels like it's put together well.
Where the Jeep Patriot Goes Wrong
The Jeep Patriot looks like a Jeep Cherokee from 1984 and that's a good thing. Unlike the sporty and sleeker crossovers around, it looks the way people think SUVs should look. The Patriot is a good deal shorter than the CR-V, which means it's easier to park. But it doesn't handle any better and it doesn't really make any more power or get better fuel efficiency. Worse, the space inside is compromised. Even for two, space in the rear seat isn't generous and the cargo area is noticeably smaller. The plastics are also tremendously cheap inside for a new car in 2014.
The Patriot may start off cheaply, but popular options and the engine upgrade make it less of a bargain. To get "Trail Rated" off-road capability, you have to buy the most expensive engine and all-wheel drive system, and even then it's no match for the larger Jeeps.
There's No Real Contest Here
Don't be fooled by the blandness of the CR-V -- for many people it's all the car they will ever need. It holds four or five people in comfort, hauls their luggage and doesn't guzzle fuel. It's also built to last.
Our Verdict: Honda CR-V
The CR-V is a best-seller because, in reality, there's not much wrong with it.
Take a closer look at the Jeep Patriot »