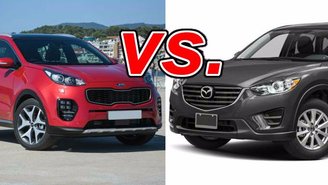 Ever since its 2012 debut, the Mazda CX-5 has stood out from competitors by offering sleek exterior styling and an ergonomic, friendly interior that flaunts its performance aspirations. However, while the CX-5 certainly looks the part of a fun-to-drive crossover, the base 2-liter engine and its modest 155 horsepower blunted the car's true potential.
Mazda engineers aimed to solve this problem by equipping Touring and Grand Touring models with a new 2.5-liter engine back in 2014. But is it enough to make the CX-5 a superior choice to the completely redesigned Kia Sportage? Or will it come up short against its Korean rival?
See a side-by-side comparison of the CX-5 & Sportage »
What the CX-5 Gets Right
With styling inspired by Mazda's MINAGI concept car, the CX-5's sleek lines and purposeful curves help it stand out from competitors. A bold grille gives the face of the CX-5 an aggressive and performance-oriented character. The CX-5's rear fascia has a subtler look than the front end, but it still looks handsome and gives the car a balanced appearance.
Buyers will also be pleased with the interior of the CX-5, which features available supportive leather seats, an excellent dash layout, and push-button start.
Straight-line performance lags a bit relative to the Sportage, due to its low-output 2-liter engine and modestly powerful 2.5-liter. However, Mazda has tuned these engines for fuel efficiency, and they deliver with up to 26 mpg city and 33 mpg highway. Mazda's zoom-zoom persona shines in the CX-5, as it is nimble and confident in the corners, and whipping in an out of traffic.
The CX-5 also delivers a roomier cabin, winning out in most of the key measurables inside, including cargo space.
What the Sportage Gets Right
The Sportage underwent a huge redesign for 2017 that included a new and somewhat polarizing body style. With this new look also comes a new cabin that is more stylish and quieter and ever.
The standard 2.4-liter four-cylinder outmuscles the Mazda's base powerplant at 181 horsepower, but the optional 2-liter turbo is where the power really is. With 240 horsepower and 260 pound-feet of torque, the Sportage is better suited to compete with larger crossovers.
While not as zoomy as the CX-5, the Sportage also feels right at home in the corners, and it also delivers a very comfortable ride.
The Sportage is also the benefactor of Kia's outstanding warranty coverage. This industry-topping coverage gives buyers a 10-year or 100,000-mile powertrain warranty and a 5-year or 60,000-mile powertrain warranty. This gives you peace of mind for many years to come.
About as Close as They Come
It doesn't get much closer than a competition between the Sportage and CX-5. Both deliver great agility, awesome interiors, upscale features in higher trims, and some pep.
Our Verdict: Mazda CX-5
In the end, the Mazda CX-5's more efficient powertrains, advanced safety features, and additional room in the cabin make it the better option.
Take a closer look at the Kia Sportage >>
Take a closer look at the Mazda CX-5 >>