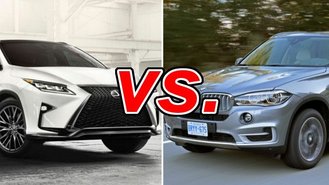 Just as minivans overtook station wagons through the 1980s and 1990s, crossover SUVs are taking over for minivans. Leading the charge in the luxury crossover segment are the Lexus RX 350 and the BMW X5. Both models have been around for plenty of time, and each has garnered a loyal following.
See a side-by-side comparison of the RX 350 & X5 »
The RX 350's image has struggled, however, with a close association to the non-premium Toyota Highlander and a new look, has Lexus managed to shed this slight stigma, allowing the RX 350 to overtake the X5?

What the RX 350 Gets Right

Right off the top, the RX 350 lays a nasty blow to the X5 with a base price that makes it much more affordable. The all-new exterior of the RX 350 also gives it an edge over the classic -- though relatively bland -- styling from BMW.
Under the hood, the Lexus barely loses the power race -- but with a Toyota-sourced engine, buyers can rely on reliability, great fuel economy and low maintenance costs.

What the X5 Gets Right

When you buy an X5 you are first and foremost buying the high-end cachet of a BMW. The X5 also provides a driving experience that you wouldn't expect from an SUV with a combination of superior handling and a comfortable ride. What's more, the X5's max cargo room is about 10 more cubic feet than the RX 350's.

Under the hood, the X5 leads the way in terms of engine selections. It all starts off with a base 3-liter turbocharged six-cylinder with 300 horses that mates to an eight-speed automatic transmission. From there, you can move up to a 3-liter diesel V6 with 265 horsepower and up to 26 mpg highway, or the range-topping twin-turbocharged 4.4-liter V8 with 400 horsepower. New for 2016 is the xDrive40e plug-in hybrid, which uses a 2-liter four-cylinder and an engine to deliver 308 horsepower and up to 56 mpg-e.

Why Opt for the X5?

When it comes down to it, the X5 is a great crossover that delivers more speed and agility, better cargo-hauling capabilities, and more options, but it is also dramatically more expensive.

Verdict: Lexus RX 350

Yes, the X5 is still king of the hill in terms of luxury and performance, but the Lexus RX 350 offers up better packaging for the average luxury SUV buyer. It is priced much lower with the option to make it just as luxurious as the X5.
Take a closer look at the Lexus RX 350 »