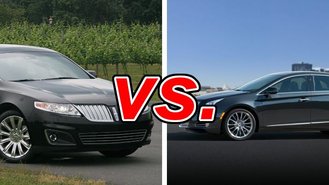 There's really no such thing as traditional luxury car anymore, but the Lincoln MKS and Cadillac XTS are as close as you can get. With huge interiors and obsessive attention to passenger comfort, they are the spiritual successors of the Town Cars and Fleetwoods of yore.
See a side-by-side comparison of the MKS & XTSl >>
In today's market, which makes the stronger case for full-size American luxury?
MKS Highlights
With its sweptback grille and long hood, the MKS is an elegant piece of work. The graceful lines make it easy to lose sight of how big this Lincoln really is. You'll have no doubt about its size once you step inside the plushly trimmed cabin. Rear legroom, in particular, is something to behold. We can't think of car with a trunk that's better at swallowing golf bags and luggage.
A 3.7-liter V6 with 305 horsepower is standard across the board. All-wheel drive models can get the EcoBoost twin-turbo V6, which pumps out 365 horsepower for luxuriously quick acceleration. Under way, the MKZ is quiet and composed, with the solid feel that buyers expect in a heavy cruiser.
XTS Highlights
When Cadillac launched the XTS last year, critics were impressed by its refined high-tech interior and engaging style. The sole engine, a 304-horsepower 3.6-liter V6 shared with other GM products, was capable enough, but not nearly as enticing as the rest of the car.
The power issue has been solved in a big way for 2014 with the addition of a twin-turbo version of the 3.6-liter. With 410 horsepower, it's one of the most powerful V6 engines on the market. All-wheel drive is standard with the turbo and available with the base engine.
The XTS comes off as remarkably agile for a full-size luxury car. Though it doesn't pretend to be a sports sedan, the Cadillac never feels floaty or disconnected and takes corners without drama.
What's the Difference?
Cadillac and Lincoln mastered the art of passenger comfort generations ago, so it's no surprise that both cars can lull you to sleep on the highway. Traditionalists will appreciate the MKS's dignified appearance and effortless operation. The XTS will appeal to buyers who what something closer to the cutting edge of both style and technology.
Our Verdict: Cadillac XTS
The XTS proves that full-size American luxury can keep up with the times.
Take a closer look at the Lincoln MKS >>