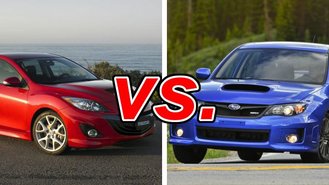 Some compacts get by on looks, some on economy, and others on how quickly they elevate your pulse. Budget performance cars are nothing new, but they have certainly come a long way in the last decade.
See a side-by-side comparison of the MAZDASPEED3 & Impreza WRX >>
Both the Mazdaspeed 3 and Impreza WRX are faster and handle better than the average juiced-up compact. That's what sets them apart from the crowd, but what sets them apart from each other?
Where the Mazdaspeed 3 Scores
The hatchback Mazda lacks nothing when it comes to brute force. The turbocharged 2.3-liter four-cylinder whips up 263 horsepower and 280 pound-feet of torque, output that approaches the performance limits of any compact front-driver. A six-speed manual is the only transmission. Buyers even thinking about an automatic will probably be happier with the regular Mazda3.
Zero to 60 mph takes just under 6 seconds, and the sport-tuned suspension handles hard corners with the best of its class. To complete the package, Mazda installs upgraded gauges and black leather sports seats in every car.
Where the Impreza WRX Scores
While the basic Impreza was revamped in 2013, the WRX so far carries on in familiar form. You don't get the latest styling or electronics, but that doesn't change the fact that it's still a thrilling performance car.
The WRX starts with standard all-wheel drive and performance-spec suspension components for stellar high-speed handling. Power comes from a turbocharged 2.5-liter four-cylinder mated to a five-speed manual transmission. With 265 horsepower at its disposal, the WRX scoots from zero to 60 mph in 5.3 seconds, the fastest time in this price class.
For those with a serious power fetish, Subaru offers the STI version of the WRX with 305 horsepower and a six-speed manual. The STI achieves zero to 60 mph in just 4.5 seconds, which puts it close to supercar territory.
The Bottom Line

Around the racetrack, the WRX will edge out just about anything in its class. The Mazdaspeed 3 isn't far behind, and also offers competitive style, tech features, and interior refinement.
Our Verdict: Mazda Mazdaspeed 3
The Mazda comes close enough to the Subaru in performance to overtake it when other factors are considered.
Take a closer look at the Mazda MAZDASPEED3 >>