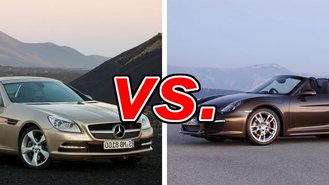 Something big happened to the compact roadster market in 1998: the Germans got involved. When the Porsche Boxster and Mercedes-Benz SLK first hit the market, the Boxster was regarded as the sportier, more satisfying droptop. Sixteen years later, is that still the case?
See a side-by-side comparison of the SLK250 & Boxster >>
What the Porsche Boxster Does Right
The Boxster may have become much more refined, but its basic formula remains the same. The smallest Porsche's main calling card is its mid-engine layout with a horizontally opposed flat-six that now produces 265 horsepower in base trim. (Stepping up to the S model brings a more powerful 3.4-liter unit.) Buyers choose between six-speed manual and PDK dual-clutch automated manual transmissions.
The Boxster has made major progress in its interior. Gone are the cheap plastics and bland design of the original car, replaced by handsome switchgear similar to that found in a 911 or Panamera. An extra inch of wheelbase went straight to the cabin, giving the Boxster a roomier feel than previous models.
What the Mercedes SLK250 Does Right
Since it first arrived on the scene in 1998, the Mercedes SLK has sought to offer the driving experience of the larger SL at a more attainable price. Features like a power tilting steering column and rain sensing wipers are standard, as is a power folding hardtop for the added solidity and security of a coupe. The options list stretches even further with features like AirScarf, which uses vents in the headrest to counteract chilly breezes during top-down drives.
Under the hood, the SLK250 has a 1.8-liter turbocharged four-cylinder that produces 201 horsepower and 229 pound-feet of torque. A six-speed manual transmission is standard, while a seven-speed automatic is optional.
Is the Boxster Still the Frontrunner?
The simple answer is yes -- the more complicated answer is that these cars are built for very different audiences.
The Porsche is for those who value a pure, uncompromising driving experience. The base flat-six provides abundant power, while handling capabilities encourage the driver to push the car just a little bit harder.
The SLK250, on the other hand, is more of a grand tourer, with plenty of gadgets to keep the driver and a companion entertained while performance fades into the background. Compared to the Porsche's mid-mounted flat-six, the Benz's little four-cylinder seems almost quaint, and its acceleration won't raise any eyebrows -- although it does score on fuel economy, with a rating of 23 mpg city and 33 mpg highway.
Our Verdict: Porsche Boxster
If we wanted a car for a relaxing cruise on a Saturday night, the SLK would be our pick. For sporting pursuits, however, the Porsche is the obvious choice.
Take a closer look at the Mercedes-Benz SLK250 >>