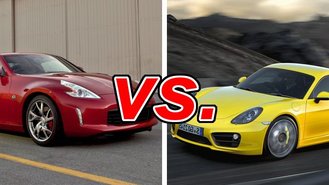 A decision between German engineering and Japanese technology is not an easy one. When those qualities are the characteristics of enviable sports cars, the decision becomes even more difficult.
See a side-by-side comparison of the 370z & Cayman >>
The Nissan 370Z and the Porsche Cayman are built on platforms based on years of proven performance and foundations of high-speed capability. If speed and a flashy exterior are a necessity, then it is almost impossible to find fault with either of these models.
What the Nissan 370Z Gets Right
Since the original 1970 Z was introduced, Nissan has kept the design moving forward -- the iconic Nissan 370Z remains one of the most vibrant and dynamic sports cars available. Equipped with a standard 332-horsepower 3.7-liter DOHC V6, the 370Z is available with six-speed manual or seven-speed automatic transmissions.
The exterior design incorporates intentional 240Z styling cues, a sleek aerodynamic shape, a dramatic cantilevered roof, and a very low profile. The 370Z also provides zero front and zero rear lift when equipped with the rear spoiler, thanks to extensive aerodynamics efforts.
What the Porsche Cayman Gets Right
By sharpening styling cues, lengthening the wheel base, shortening overhangs, and adding larger tires, Porsche enhanced the overall performance of the Cayman while reducing its weight by 60 pounds. Lower, longer, lighter, and faster, this third-generation Cayman delivers 275 horsepower with a 2.7-liter engine offering fuel efficiency of 32 mpg. If that's not performance enough, Porsche also offers a 3.4-liter six-cylinder engine capable of 0 to 60 mph in 4.7 seconds.
Sports Cars Need to Perform
A "performance" car needs to do more than look like it goes fast. Both Nissan and Porsche have created attractive sports cars that deliver on agility, maneuverability, road-handling, and speed.
Our Verdict: Porsche Cayman
Porsche continues to improve the Cayman -- a car that many consider the near-equal of the mighty 911 -- and the results are evident. It quite simply sets the standard for the class.
Take a closer look at the Nissan 370z >>